Posts tagged
Rob Furman
As this was my first conference for school librarians, I was amazed at all the great information I took home in just one day.  While my friends and family teased that this would be a conference of "Shhh-ers" and that I'd learn how to better dust the library shelves, what I actually found was a diverse group of personalities from around the state brought real-world ideas and solutions to school librarianship issues.  Our own Dr. Audrey Church (School Librarianship Program) spoke during the keynote ceremonies as the current President of the American Association of School Librarians (AASL). Keynote speaker Dr. Rob Fuhrman, a principal from Pennsylvania, gave us "10 principles for creating a reading culture."  In the many breakout sessions I attended, I came away with real-world strategies for bringing the VA Readers Choice books into library lessons, book ideas for boys who are reluctant to read, ideas for professional growth in our careers, and the best apps for teaching and learning.  I filled pages of notes with great ideas that I can't wait to put into practice!  The culminating highlight of my day at the VAASL conference was the Longwood alumni gathering.  It was inspiring to see around 150 alumni from Longwood's School Librarianship program all gathered in one room, and even more amazing to see Dr. Church introduce us to each person in the room, announcing their name and location from memory! I look forward to attending next year as well!
Oct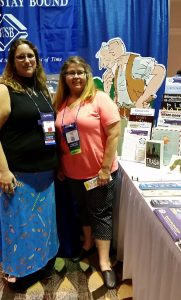 ober 20, 2016
Today was the first day of VAASL (Virginia Association of School Librarians).  All I can say is it was a fire-hose of information!  It was very overwhelming to be around so many librarians, and having to decide what sessions to go to!  I appreciated Frances' advice of sitting near the door (for easy escape) and tried to do at least half of all the sessions I attended (allowing me to see twice as many session). I started the morning in a session that linked the VA Reader's choice books to state standards.  They had great handouts about all the different activities that could be done at the elementary level, but didn't address any of the middle grade books.  From there I caught the end of a session on the magic of series (which was very disappointing). After the morning session we saw the keynote speaker, Dr. Rob Furman.  I spent most of his session firing off e-mails to my colleagues back at Smart's Mill about all the great resources he shared.  I particularly want to check out James Patterson's website www.readkiddoread.com (books for reluctant readers).  In the afternoon I went to a session on becoming Google certified (which is very easy to do and only $10 to apply), then we went to the first timers tea and got all sorts of free books!  My favorite session was the one I only caught the tail end of, which used themes to tie different fiction books together.  The presenters were so animated, and there are so many great titles!  I ended the day with author Ginjer Clark, who writes nonfiction books on weird animals.  Her focus was on encouraging reluctant readers to engage in nonfiction by showing them the odd and disgusting.  I had a great time seeing everyone at the alumni event, and was impressed by Audrey's ability to name everyone (and so quickly!).  I loved the tribute to Frances – "Oh the Places You Will Go!"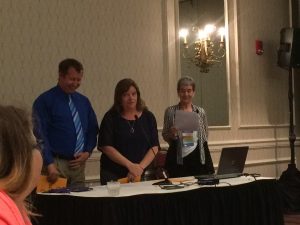 October 21, 2016
Today was a fabulous day – best day by far!  All the sessions were absolutely amazing.  I began with the Junior Library Guild and their new releases for middle and upper grades.  I need to figure out how to get advance copies of books – what a tease!  My next session was sponsored by a math teacher aspiring to be a librarian and which Tech Tools we should integrate into the library to win over our math and science teachers.  My poor math SALT must have received at least 5 e-mails from me during this session!  Then we went to a session on Picture Books at the middle school level.  I was especially excited for this session as November is National Picture Book Month, and one of my reading promotions is to get each content to use a picture book to support their lessons.  The keynote speaker today was Mr. Schu – who is the fabulous library ambassador for Scholastic.  What a dream job!  Such an amazing speaker, and he was able to create such energy in that room.  Everyone should get a chance to see him speak!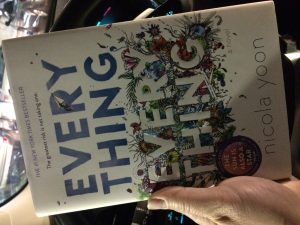 October 22, 2016
Short day today – only stayed for two sessions.  The first was on the Best Apps for 2016 sponsored by AASL.  Many of these apps were new to me, so my principal is allowing me to use 10 minutes in a faculty meeting to share with our staff.  My second session was presented by two first year librarians.  It was titled I Survived!  Overall it wasn't the best presentation, but I did win a free book!  It did make me think about what I would want to share at VAASL next year if I were to present as a first year librarian.  So glad to have had this opportunity!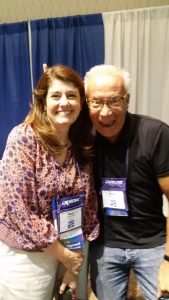 I charted my course to Norfolk, where the 2016 annual conference of the Virginia Association of School Librarians was held. As a student, I was delighted to start off with the session, "New to You! Lesson Ideas", which was chock full of lesson ideas to use in an elementary school. Both new and classic books were discussed with innovative ideas to use them in the library classroom. Dr. Rob Furman followed up with an inspirational keynote presentation that proposed "Principles for Facilitating a Reading Culture" that included suggestions on technology tools, such as Plotagon and Kindoma. I was fortunate to be able to attend Dee Griffith and Marsha Stewart's, "What's New in Children's Literature" session. I attended their 2015 session, and was so excited to see that they were doing it again this year with 2016 published books. Being able to see the books in person, to examine the readability, and find out their connections to SOLs will be useful for years to come. The next stops on my voyage were to learning about strategies for supporting English learners in the library classroom and finding the treasures in AASL's Best Apps for Teaching and Learning. Day one of my journey ended with a gathering of Longwood students and Alumni where we paid tribute to our Professor, Frances Reeve. It was an unforgettable day. Day two started off with "Managing the K-1 Library Period", where I found out cutting-edge techniques of incorporating centers to ease the check-out process while keeping students engaged in learning. I traveled on to the Junior Library Guild presentation on new releases, followed by a presentation by my amazing cohort classmates who taught us how to promote reading with the use of book trailers. The last stop on my session route was the "Addictive Magic of Book Series" where I learned the benefits of series for our students. This expedition was definitely rejuvenating, and I am already looking forward to 2017 in Chantilly (my home turf!). – Marci Hoyt