VAASL 2016 in Norfolk, VA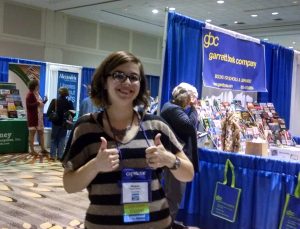 This was my second year going to the Virginia Association of School Librarians conference and it was even more enlightening than the first! The experience made my head swim with good ideas that truly energized me to enter the profession next school year (hopefully!) I got to play with robots in a STEM "petting zoo," go on a virtual field trip to historical sites around the state with Encyclopedia Virginia, and work with 25 other librarians to crack the code of an escape room-style "break-out" box designed for sixth graders — which we solved at the very last second! I've already shared resources I compiled from the awesome concurrent sessions with librarian friends who couldn't make it, because this stuff was too good to miss out on. Seeing all of the innovative things that Virginia's librarians do in their schools is truly inspiring. Sometimes I worry that the "best practices" I learn about in my Longwood classes might not be feasible in the real world, but the 2016 VAASL conference showed me that school librarians really are the superheroes that the professors make them out to be!
Comments are closed.