VaASL Conference in Norfolk
I really enjoyed attending a multi-day conference where I could "just be" with people who are working in a field that I hope to break into i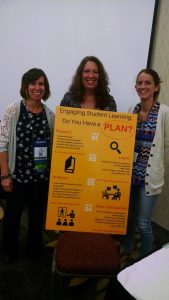 n the near future.  The Virginia Association of School Librarians (VaASL) conference was extremely well run and I left each day feeling like the sessions were well worth my time.  I'm thankful that I was "forced" to go to at least one day of the conference for my SLIB670 class and I'm happy that I chose to attend more than one day.  In the future I will make it a priority to attend the full conference.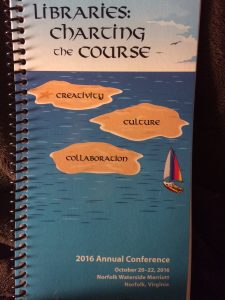 Some of my key takeaways from the sessions I attended include: collaborate with everyone, be friendly, set boundaries, listen, invite people in to observe and to help, enlist student volunteers, keep a daily/weekly reflection log, tell people what you're doing in the library, and always talk to other librarians. I learned about the twitter chats #VASL and #EdCamp, and also the ALA's Best Apps for 2016.  And lastly, I learned that John Schu is an amazing speaker with a big heart, and he really, really loves Kate DiCamillo.
Comments are closed.