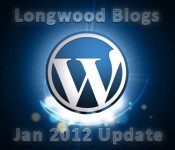 In this update, we have a huge selection of new themes and plugins that you might be interested in using as well as some system addons that everyone will benefit from.
Themes
To begin with, we have 16 new themes for you to choose from.  Most of these themes are oriented towards individual student blogs, but some are also suitable for faculty / course blogs or administrative / departmental blogs.
These themes also received updates: Bluebird, Graphene, Lightword, and PrimePress
Plugins
These plugins are now available for activation:
Image Auto-Resize: This plugin will automatically better compress and resize your uploaded images for the web.  Great for uploading photos or scans!
Subscribe to Comments Reloaded: Lets visitors subscribe to email updates of new comments on your posts.  It's easy to enable for your users but includes plenty of management options as well.
SyntaxHighlighter Evolved: This plugin is great for Computer Science and CIMS students and faculty that need to post code on their blog.  More information on supported languages and how to use.
Twitter Widget: After activating this plugin, you can add a widget to your blog's sidebar that will show your latest tweets.
WP-Polls: This plugins allows you to add polls as widgets or in posts and handles the collection and display of results.
Usability Enhancements
We've made the following changes based on usability testing to help users create their first blog, get help managing their blog, and access Longwood Blogs features.
Longwood Blogs Admin Bar Menu: This menu will (by default) appear in the admin bar whenever you're logged in and provide quicker access to helpful Longwood Blogs features such as course blog lists and support.
Dashboard FAQ Widget: You'll now see a list of popular blog FAQ questions in your dashboard.  See example.
Blog Creation Help: The page displayed after a new blog is created is now more helpful about how to get started with your new blog.  See example.
Home Blog: The Longwood Blogs home blog has been modified to be more intuitive and helpful.  For example, the login box in the upper right is now easier to see.