New Theme and Plugins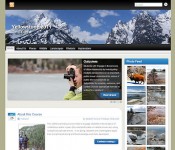 We've added only one new theme for you in this update, but it's quite an amazing one.   Gorgeous and highly versatile, the Graphene theme can easily be tweaked for use on any type of blog: personal, course, departmental, group, etc.  It supports custom headers, custom menus, and custom backgrounds plus adds some non-standard features like a featured slider, custom CSS, color themes, and per-page custom headers.  See Graphene in action on the new Yellowstone 2011 course blog.
Two new plugins were also added in this update:
Google Maps Made Simple — makes embedding Google maps into your posts and pages relatively easy by adding a new button to the "Upload / Insert" options which opens a WYSIWYG map editor
Post Notifications — allows visitors (or people of your choosing) to subscribe to email updates whenever a post is made to your blog.  Can add a widget or page for visitors to manage their subscription.  (Get us to help you configure this plugin in you're having trouble.)
Share your thoughts, post a comment.