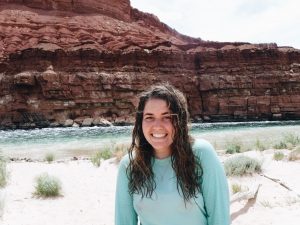 Hi, my name is Kelsey Swegle. I am a nursing student and have recently completed my junior year of college at Longwood University. Throughout my time here thus far I have met such wonderful individuals from peers to professors. I have also had many incredible experiences.
Despite the torrential pour down on move in day, I knew my first night, that Longwood University was the place for me. Starting my first semester I was so excited. I was the typical college freshman student that carried around every book for each class even if I didn't need it, all of my pens, pencils, and sharpies to take colorful notes, and I had my calendar that I wrote everything in. I experienced many of my Longwood University firsts including the Chi Walks, Oktoberfest, Thanksgiving dinner, Grand Illumination, and Late Night Breakfast. All of these make Longwood what it is. I found my way pretty fast. In fact, I would say much faster that most first year college students. I jumped into a few clubs and organizations such as Honors Student Association, Student Nurses Association, and Outdoor Club. These organizations allowed me to expand my horizons and meet new people. Other than traditions and organizations, my classes were excellent. I took BIOL 206, PSCH 100, HONS EDUC 265, HONS CTZN 110, and THEA 100. I was successful in all of these classes and  learned a lot. My favorite class of the semester was BIOL 206. Because of this and my success in the class, I decided to add a minor in Biology. Come to the end of the semester, I was sad to leave knowing I would be done with these classes and would not be back for a whole month.
Spring semester went by in a blink of an eye. Classes were a little more challenging. I took my first nursing class called NURS 100. I also took BIOL 207, ANTH 200, SPAN 110, and HONS ENGL 165. I struggled with SPAN 110 and HONS ENGL 165, although HONS ENGL 165 was one of my favorite classes of the semester. Along with the classes, my social life got a little more challenging too because I joined more organizations and took leadership positions. I was elected as the Media and Equipment Chair for the Outdoor Club. I joined Alternative Breaks by attending the Puerto Rico service trip during spring break. Later in the semester I was elected as the Secretary for Alternative Breaks and became a trip leader for the 2019-2020 school year. I have become an Honors Peer Mentor for the Honors Leadership Retreat where I will also be holding a leadership position with a few other incredible students. I was also appointed a position on Student Government Association as senator which I am very excited to take on come August.
As my junior year has come to a close, I look back and recognize all of the wonderful opportunities Longwood has given me in just one year. I look back and realize how in love I have fallen with my school.