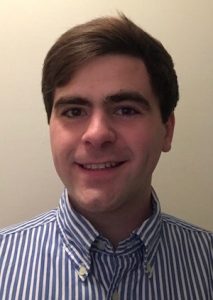 Chris Crider, one of our recent Professional Writing Program alumni, has been hired as a Digital Content Writer at VMek, an international agricultural technology company based in Richmond, VA. Chris has been an active student in the program, previously completing an OSR/CURIO project with Dr. Elif Guler as well as internships with organizations such as  Steps, Inc.
In his reflection on his internship at Steps, Inc, Chris wrote:
"Right away, I was able to examine principles and practices of effective professional communication, including visual and written communication, in a workplace setting at Steps, Inc. I accomplished this goal by creating different types of documents, such as employee assessments, client referral forms, satisfaction surveys based on employee performance, volunteer documents outlining volunteer responsibilities as well as a volunteer sign-in form, and finally the annual report. Through the research and creation of these documents, I was able to analyze rhetorical situations in online written communication with attention to audience, purpose, format, and context. Each professional document's audience varied, so it was essential that I took the opportunity to analyze the rhetorical situation being addressed for a particular document before sending out my final draft."
Congratulations, Chris! The Professional Writing Program is proud of your accomplishments!