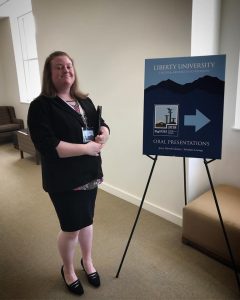 Chelsea Smith has recently presented her paper, "Fluid Manifestation of Gender in Louise Erdrich's The Last Report at Little No Horse: The Ojibwe Tradition," at the 2018 Big South Undergraduate Research Symposium (BigSURS) held at Liberty University from April 13-14, 2018.
Chelsea's paper focuses on Louise Erdrich's The Last Report on the Miracles at Little No Horse which, Chelsea states, "has sparked countless scholarship regarding how several genders are practiced by a single character. The complexity of expressed gender is further complicated alongside the multiple identities that Father Damien exhibits along his journey throughout the social constraints, religious acquiescence, and cultural semblance of western culture, ultimately ending in the complete assimilation to the Ojibwe culture, and the completely fulfilled spiritual journey that Father Damien desires." Chelsea argues that "the only way to fully understand Father Damien's gender is to understand its complexity as designed by and within the Ojibwe tradition–which practices a complete acceptance of the fluidity and hybridity of Father Damien's physical body and religious beliefs."
Congratulations, Chelsea!