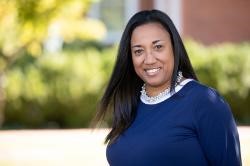 Dr. Erica Brown-Meredith
Longwood's Orienting Beliefs
We acknowledge the critical need to transform the university and classroom into an authentically inclusive, equitable, and anti-oppressive learning environment and regional nexus of Inclusion, Diversity, Equity, Access, and Liberation (IDEAL) initiatives.  As part of this effort, we recognize our individual and collective responsibility to identify and dismantle institutional and instructional barriers, systems of oppression, and personal impediments that hinder such efforts.
Authentic IDEAL efforts in higher education first and foremost necessitates community-wide fidelity, as well as methodological coordination to foster intercultural competence within and across individuals and groups. Cultural competence in higher education compels instructional faculty and staff to be in tune to their own racial worldview and self-aware of one's biases and attitudes toward cultural differences. It requires persons to willingly and actively dismantle the cultural myopia structurally, while attending to cross-cultural interactional patterns.
The effort towards intercultural competence also requires systems of trust and accountability. However, it cannot be developed naturally or fostered through didactic means; rather it involves continuous (often laborious) self-reflection and action. It requires all work to be rooted in humility, outrage at past and present conditions, and joy at the possible. As such, it requires all to concomitantly embrace patience and urgency.
The paradigm shift in the blatant exposure of institutionalized racial inequality has implicated faculty in particular, requiring us all to adopt more inclusive pedagogy that addresses disparities in teaching and learning practices. It requires innovations in equity-minded and culturally-affirming teaching practices and that we deconstruct the dynamics of dominance, power, and inequality in instruction. However, such efforts need not be seen as residual to our core mission. They are our core mission, seeing that instruction using inclusive and equity-driven pedagogical practices embedded in evidence-based practice promotes the academic enrichment of all students as citizen leaders.
 What I Offer
It is my intention to support multi-layered professional development in cross-cultural sensitivity and unconscious bias, inclusive teaching practices, and proactive advising models.
I offer personalized consultations to individuals and groups on campus in regards to IDEAL-related topics in relation to instruction, advising, general welfare, and special programming.
I understand that such topics can seem overwhelming even to the most experienced and talented practitioner. It can be quite challenging to keep up with the latest evolution in terminology or to sift through the cacophony of opinions, many spewed by anti-equity voices, to ensure that you are up-to-date and ready to meet the diverse needs of your students.
I am here to offer you practical suggestions and helpful resources on a range of IDEAL topics and initiatives.