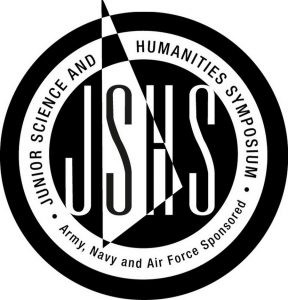 Welcome to the Virginia Regional JSHS Informational Site!
What can you find here?
This site is designed to help you prepare for our JSHS science competition and to give you your best shot at reaching our national level of the JSHS competition. There are resources for teachers and for students. You can learn about equipment check-out. Follow the navigation for a guided experience in preparing for our competition. And don't forget to check out those due dates!
What is JSHS?
The Junior Science and Humanities Symposia (JSHS) Program is a tri-service – U.S. Army, Navy, and Air Force – sponsored STEM competition which promotes original research and experimentation in the sciences, technology, engineering, and mathematics (STEM) at the high school level and publicly recognizes students for outstanding achievement. By connecting talented students, their teachers, and research professionals at affiliated symposia and by rewarding research excellence, JSHS aims to widen the pool of trained talent prepared to conduct research and development vital to our nation.
Endorsed by the National Association of Secondary School Principals (NASSP), JSHS regional and national symposium are held during the academic year and reach more than 8,000 high school students and teachers throughout the United States, Puerto Rico, and the Department of Defense Schools of Europe and the Pacific Rim. Students must first participate in their regional symposia where they compete for selection to present at the national symposium each year.
The Virginia Regional symposium is open to public, private, and home-schooled students across Virginia, except for those in Arlington, Alexandria, and Fairfax cities/counties. Students in this area should contact the Greater Metro DC Region.
Find more about JSHS on their website.