Art 120, Foundations of 2D Design, was taught by Professor Kerri Cushman. The course focused on learning about the vocabulary, principles, and elements of two-dimensional design. This was also a major requirement for me, so I definitely enjoyed it, despite the amount of time I spent outside of class working on different projects.
Our course textbook was Design Basics (8th edition). It was very beneficial, and I enjoyed reading through it and learning about the different vocabulary words that went along with our projects.
The majority of our work was projects; however, we also had a few quizzes that reviewed the vocabulary and reading. We made mandalas, which followed a radial symmetry pattern. Throughout the entirety of the project, we worked with pen, glue, copying, and even ceramics, when we turned the designs into stickers, and applied them to old ceramic pieces. Our second project was a motif. We were tasked with creating a repeating pattern on vellum paper that held an underlying meaning. It was a little difficult finding something that I could repeat so many times, but in the end it was worth it. I created a motif with tractors and potatoes, symbolizing the under-appreciation of farmers. It was also a neat experience looking at everyone else's pieces.
The piece that took me the most time outside of class was our self-portraits. We had to create our piece with two images: one image of ourselves, and one that had an object that described us. The twist was how we added color. Instead of painting or coloring it, we cut out and glued down little pieces of magazine . Needless to say, I was a little tired of magazines after we finished the project!
All-in-all, it was something that I was able to learn from. Before this course, I had not used magazines much in art, and I had certainly never used magazine as color before. In this project, I think I created my self-portrait with relative accuracy; the picture looks like me. However, I think I could have done a little bit better with my hand in the right side image. This project was definitely a new experience for me that will benefit me in my art career.
Throughout the rest of my time at Longwood, I will use this knowledge I have gained to further expand my knowledge and artistic experience. Even after graduating and moving on from Longwood University, I can use all this experience to help me in my career, teaching students.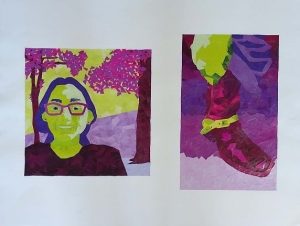 (Magazine Self-Portrait, Kyra Valovick, 10.2019)
Our final project was a book based on a Grimm's Fairy Tale. Beatrice Coron, a visiting artist, came to our class and talked to us about paper cutting. She creates fantastical pieces using a tough paper called tyvek. Some of her art is over ten feet tall, while others are wearable. For our final project, we had to take a fairy tale and modernize it, creating a book by cutting tyvek  silhouettes. Paper cutting was not something I had done before, and it was a lot harder than I thought it would be. It was definitely one of the hardest things I have ever done.