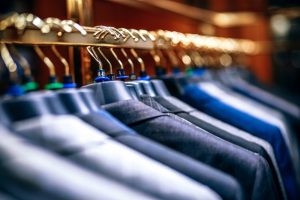 Whether we like it or not, people do judge us by our appearance. We've all heard the expression, "Dress for success!" However, not all up and coming young business professionals have the resources for a proper wardrobe. Patti Carey, a lecturer in business communication and Director of the McGaughy Professional Development Center, recognized the need to help students obtain business attire for important interviews and events on campus and created the Career Closet.
The idea for a Career Closet was formed in Fall of 2016 and became a reality in Fall of 2017. Today, the Career Closet welcomes donations from faculty, alumni and community leaders. Dry cleaned business suits for men and women, as well as dress shoes, are always appreciated and jackets and blazers are especially needed. Carey states, "It really is helping someone establish a wardrobe to be prepared for a career, and while they don't get to keep the clothes, they are understanding the importance of having a professional wardrobe."
CBE Students are already finding the Career Closet to be a helpful resource. Students may contact Patti Carey or Nancy Postans, Internship Coordinator and Executive Assistant for the McGaughy Professional Development Center, in order to borrow professional wear. The first successful step in the right direction is dressing the part!