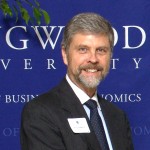 Welcome Back! I hope your summer was terrific. While you were on summer break the leadership team in the business school was busy setting up the new Student Success Center in Hiner 103 and aligning our various roles to serve you, our students, in an enhanced fashion.
By locating a number of student-oriented functions such as internships, advising, scholarships, CBE applications etc. in one place, we hope we've take another step toward making Longwood and the CBE the most student-oriented campus in the Commonwealth. We'll watch how things unfold this academic year and make additional tweaks as part of our commitment to continuous improvement for you.
You'll see a number of other cool things happening in the business school; for example, four new faculty members were hired, we have a great Executive-In-Residence lineup this fall, and our Top 100 Online MBA saw its largest student enrollment on campus in July for the MBA Residency.
There are some very exciting things happening in the CBE and I hope you're as excited as I am to be a part of it.
Have a great start to this new academic year. I know you will.
Welcome Home Lancers!
Paul Barrett, Dean