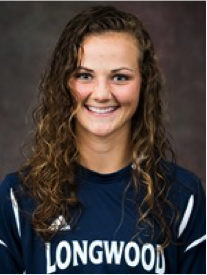 Another initial goal of the SNVC Institute for Leadership and Innovation has been achieved! We are pleased to announce that Amelia McConnell has been selected as the first recipient of the SNVC Undergraduate Scholarship.
Amelia was selected as she is a true leader and has taken action to create change that has impacted not only Longwood University, but the surrounding community, and the future of many lives. She has been committed to community service and is an example of a citizen leader.
One of Amelia's (many) impressive roles is as a key player with the development and implementation of an outreach program called, Beyond the Numbers Club. This program provides a means to connect Longwood students with local youth to help with academics as well as to mentor in good character and lifestyle. Over 50 youths and 30 volunteers have benefitted. The residual impact from these interactions will certainly carry over to families and community.
Beyond the Numbers Club is one of many examples of Amelia's leadership abilities. She has been active in FACES, Boys and Girls Club of America, Church activities, athletics, and served as a LU Ambassador. She has also shared her talents with pro bono graphic design work to various organizations.
This is the first year that the SNVC Institute has granted the Undergraduate Scholarship; however, we need to recognize that our sponsoring firm, SNVC, L.C., has given the SNVC Leadership Award to a deserving CBE graduating senior each year since 2010.
To learn more about the SNVC Institute for Leadership and Innovation contact Diane Barrett barrettdt@longwood.edu