Coming from a town of over 25,000 people in densely populated Maplewood, New Jersey, I've never quite had a chance to experience just how close and loving a small town feels. The gratitude and appreciation I felt from the community during service events was unlike anything I've ever experienced. Being able to give back to a place that's already given me so much is a privilege I will continue to take advantage of.
Spooky Slugfest: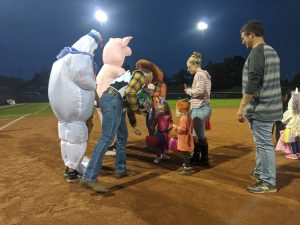 The Spooky Slugfest is an annual halloween tradition of baseball team over the last few years. There may be no expression of joy greater than the look on a child's face when they have candy coming their way! This feeling radiates throughout the entire evening which includes a baseball game played by the Lancers wearing hilarious costumes. In more rural rural towns like Farmville, trick or treating can be a bit well…tricky, leading parents to create alternatives such as car trunk trick or treats. The Lancer Baseball team and staff have created a safe and exciting tradition for so many families, and kids who make up the future of our wonderful community.
PEFYA (Prince Edward Farmville Youth Association) Little League Free Clinic:
(Pictured below is me hitting ground balls to an excited group of young ball players).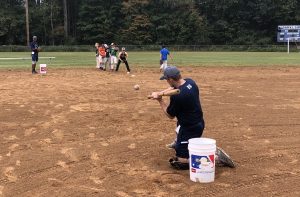 On September 14th, 2019, the Longwood Lancers baseball team hosted a free clinic for little leaguers in towns surrounding Farmville. This event gave me an opportunity to share my love for a game with the next generation of ball players. The cost for private lessons and club teams are astronomical in the world of travel baseball today. Making clinics like this one free provides opportunity for all people to develop their skills, and continue their journey in a game that has so many formative qualities.