https://www.theoutdooradventurestore.com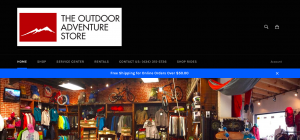 1. Identifying Strategies of Organizational Rhetoric
a) The Outdoor Adventure stores uses association one way through their media, by showcasing an image of the store on the front of their website. This way, potential customers are able to get a feel for the store before even coming in when they explore the website. The picture is specifically inviting, as all the products are neat and organized, and thus, their content suggests that this store is a friendly and welcoming environment.
b) When it comes to differentiation, one strategy that the outdoor adventure store uses is that they offer free shipping on their products when customers spend over $50. This strategy allows the store to provide a unique option of payment, whereas other stores may not have this option when purchasing. It also encourages customers to spend a certain amount of money in order to save on shipping.
c) Branding is very apparent on this website. The Outdoor Adventure Store is known for selling various popular brands such as Patagonia, The North Face, Life is Good, Keen, and more. While these aren't the stores brands, by offering such high demand products in their store, they can target a wider audience, and thus, grow in their own personal brand. The design of the store's brand emphasizes that they promote outdoor activity, however, I feel as though they can elaborate more on their design.
d) These strategies help create a clear idea of what this company is all about. The Outdoor Adventure Store is unique in a sense that it is local, and competition is low. Therefore, they are given the availability to emphasize what makes their store great in order to attract customers. These strategies specifically help this organization maintain a focus on their local store, meaning that they can urge the public to see what they have to offer because they are different from larger stores that sell similar products.
e) Channels of delivery help spread the word to the public about organizations. Through blogs, people can see certain images on the organization's profile of and keep up with specific events. Consumers can then be directed to a certain the website through their blog page. However, this company lacks an up-keep of their blog, therefore, some critiquing must be made.
f) The Outdoor Adventure Store is already known as a local store in FarmVille. People come to purchase their products, but more importantly, they rent bikes and kayaks from the store, which allows them to explore FarmVille. In order to maintain their identity to advance their own goals, this store can create a social media page in order to advocate for their store so that more people from the FarmVille community and beyond can find out about this store.
2. Key Elements of the Rhetorical Situation 
a) I would say that this is a situation that calls for identity-building rhetoric. While they are the only store in FarmVille to be an outdoor adventure store, they do not promote themselves effectively through media, and thus, business can be slow. I suggest that they can improve and bring more customers in by emphasizing how their store allows people to see FarmVille through and outdoor perspective. By displaying images of people in their products on social media, more people can become engaged with the store.
b) Functional audiences seem to be the target audiences in this situation, because without customers, this store would not make it very far. I think they store is very reliant on it's customers, as well as employees, because their jobs keep the store whole. The employees of this store serve a purpose to promote the positivity of the store, and the customers keep it running smoothly by consistently purchasing their products.
c) I think that consistency is a constraint in this case. It's noted that it's important to be consistent with the rhetoric of the organization, and this organization is not extremely consistent in keeping up with the content of their website and their blog. This constraint may make it difficult for potential consumers to keep up with new things going on in the store, such as new deals on products, or store hours.