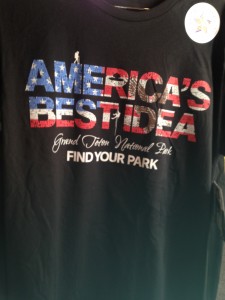 This shirt was found at the first visitors center we went to. The image on this shirt is done for two reason. First, to rally support behind the park. At every visitor center we went to observe there was the option to donate. You could not make a purchase without being asked to round up to the next dollar to help Yellowstone. Second, to get you to purchase the shirt. "America's Best Idea" causes one to think that all of America agrees with this statement. Any America theme sells quickly anyways due to national pride. If you look closely you can see people climbing over the words. They appear to be hiking and exploring, but also look like soldiers. Many people rally behind that, so the designers of this wanted to rally support for the park as well.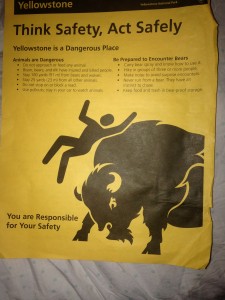 Obviously, the main message behind this flyer is safety. We picked this up in Gardiner in the newspaper. After our explorations through-out Jackson Hole, Gardiner, and Livingston there was one theme that was in common, tourist. We determined that the need for flyers like these have risen as the number of people who visit the park increases. We even witnessed the madness ourselves when driving from Jackson Hole to Gardiner. There was a traffic jam and crowds of people right next to a momma bear and her two cubs. This flyer is to reiterate the fact that this is not a zoo and the animals are in their natural habitat, so people need to be more aware.
Similar to the photo above, this sign is about safety. More specifically this sign is relating to environmental safety. While driving around the GYE we were stopped or slowed multiple times due to idling. We knew this was dangerous because of car accidents, but we never considered the fact that it was bad for our environment until we noticed this sign. That must be the case for most people. They are just generally uneducated about the world around them sometimes they do not stop to think how their actions could effect someone besides themselves. Putting the bison in the exhaust is a great idea because generally when people think of Yellowstone they think of a bison.