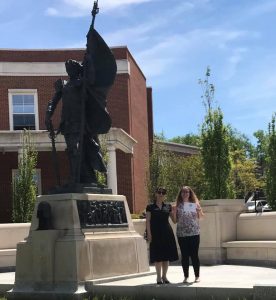 From left to right: Dr. Guler, ENGL 470 instructor; Karyn Keane, ENGL 470 student/Award Recipient
My name is Karyn Keane, and I am a third-year student at Longwood University. I am set to graduate in May 2020 with my B.A. in English, a concentration in Rhetoric and Professional Writing, and a minor in Children's Literature. I plan to attend graduate school and earn my M.A./PhD in Rhetoric and Composition, or something similar.
In my time at Longwood, I have served in a variety of capacities that have allowed me to exercise and strengthen my professional writing skills. These include (but are not limited to) presenting my work at local and national conferences, publishing several articles in academic journals, interning for Longwood's Office of Alumni and Career Services and Prince Edward County Public Schools, working as a Writing Center consultant, and tutoring student athletes in English and Spanish. Each of these opportunities has strengthened my passion for written communication and the uses of rhetoric throughout daily life.
This e-Portfolio is the final assignment for ENGL 470, Professional Writing. This course is required for my concentration and focuses on a variety of writing forms, such as press releases, brochures, and letters. This course has enabled me to practice professional writing more effectively by teaching me about generally accepted conventions for content and formatting. I was even able to use the information from the press release unit in my internship this semester, ensuring that information about the schools was released promptly and effectively. I have successfully learned and continue to employ all of the course outcomes:
Analyze and produce writing genres commonly found in the professional world (e.g., business, gov., media);

Create professional documents that use plain English (clear, concise, and grammatically correct);

Conduct research to create content for a variety of professional documents (memos, letters, reports, etc.);

Create professional documents that uses design—standard formats, layout, use of graphics, etc.

Practice oral communication skills to present content effectively (enhanced with multimedia tools);

Participate productively in collaborative projects.