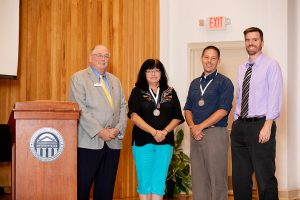 Congratulations to Mary Carroll-Hackett and Andrew Yeagley, the 2018 recipients of the Cook and Cole Medals for Undergraduate Mentorship.
The John Randall Cook Faculty Mentor Award and the Waverly Manson Cole Faculty Mentor Award recognize, respectively, a tenure-track faculty member and a tenured faculty member who have demonstrated excellence in mentoring undergraduate scholarly activity and creative endeavors and working with students to disseminate the results through professional meetings, publications, exhibits or performance.  These faculty members demonstrate a sustained record of such mentorships and impact on students' careers as they move to graduate school or employment.
Mary and Andrew were recognized at the opening meeting of the Cook-Cole College on Wednesday, August 15. Pictured are Roger Byrne, Dean of the College; Mary Carroll-Hackett; Andrew Yeagley; and Adam Franssen, chair of the selection committee.
Filed under: Chemistry and Physics, English & Modern Languages