I have been in Ireland for about 3 1/2 weeks. I have about a week left. The time has flown by. I wish I was able to stay longer, but I am also ready to go home and see my family. So far being in Ireland truly has been an eye-opening experience. M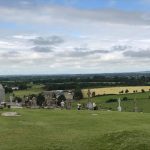 y breath has been taken away around every corner. Although I have fallen in love with this amazing country, there has still been plenty of struggles.
Going into Ireland, my family and I decided to keep my phone on Airplane Mode and disable data, so that I will only be able to use it when connected to WiFi. But, two days after landing in Ireland, my phone stopped charging. We rely on our phones for EVERYTHING! The idea of not being able to have contact with my family freaked me out. I instantly contacted my mom through Facebook Messenger and told her what happened. Without my phone, the only form of contact I would have is an Ireland burner phone that I picked up for emergencies. As soon as they were able to, my parents mailed me a new phone. Sadly, it did not arrive on time due to address complications. I spent the weekend in Dublin with a few friends and without my phone, I learned new ways to get around.
On that Saturday, my friends had to go to a school trip, so I was on my own in Dublin without a phone. I finally learned how to use a map. Yes, we all say that we can read a map and I definitely thought I could, but then I actually tried it. It is a lot harder than it seems, but once I figured it out, I was all set to go. It also helped that I was not afraid to ask strangers for directions.
Every weekend we have been here, we have traveled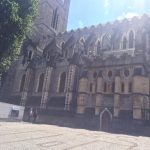 somewhere. The first weekend was Dublin, then Cliffs of Moher, Rock of Cashel, and Blarney Castle, then the Aran Islands, and finally Dingle. There were also multiple stops between all the visits, but because we only had a month here, we didn't want to waste our time. For our last weekend my friends decided to go to Northern Ireland, which is a part of the United Kingdom. But I decided to stay in Galway and go on a bus tour to Connemara, then just explore and enjoy Galway.
Academics are not necessarily harder here, but in accordance to the Cormier Honors College motto, they are different. The lecturers are amazing and truly know the material they are talking about. Learning about Gaelic Literature and Culture and Irish Traditional Music and Dance has been an amazing experience. By reading early Irish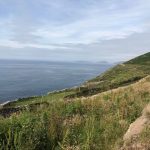 Myths and Sagas, I feel as though I better understand the ideals of this country. Along with that, we have learned basic steps in traditional Sean Nós dancing and I was able to learn how to sing in Sean Nós. One of the best parts of that class was being able to watch a group of performers right in front of me. The knowledge they have of their instruments and the passion they have for the music is stunning.
One of the biggest lessons I have learned so far is to not underestimate myself. I never thought I would be able to get around a foreign city by myself. I never thought I would be able to Sean Nós dance andsing. I never thought I would find the confidence in myself to grow here. But I have. I have taken every opportunity that has been presented to me. I am learning to trust my instincts and try new things. This is an experience unlike any other!