Fall 2023 QR Tutoring will begin Wednesday, Aug. 30!
*ALL QR TUTORING WILL TAKE PLACE IN THE QR CENTER (ALLEN 111) **
NO APPOINTMENT REQUIRED–JUST DROP IN! 🙂
FREE FREE FREE FREE FREE!!!
**Graphing Calculator Rentals: THERE ARE STILL SOME AVAILABLE!
For any updates to the schedule (e.g. cancellations) please be sure to check the QR Center Facebook page  or Instagram (@longwoodqrcenter)! 🙂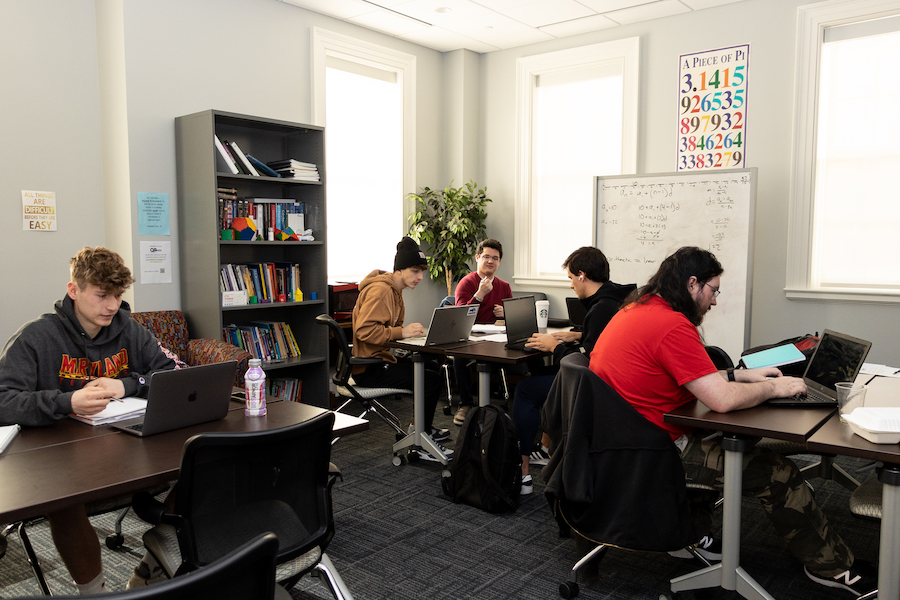 If your tutor is not available during their scheduled times (i.e. after the 10 minute grace period AND you've checked for changes in the schedule),
please
contact Dr. Shilling-Stouffer at shillingln@longwood.edu.
Also be sure to visit the "Student Resources" page, as new resources are always being posted. 🙂
Fall 2023  QR TUTORING SCHEDULE
NOTE: M = Monday, T = Tuesday, W = Wednesday, R = Thursday, F = Friday, 
If the University is closed, the QR Center is closed! (e.g. LABOR DAY) 🙂
COURSE NUMBER
QR TUTOR NAME
DAYS/TIMES AVAILABLE
MATH 135
Dr. Wears
T, R: 12:30-1:30pm
Nick
M, W, F: 9-10:30am
Ryan
M: 1-3:30pm
W: 1-2:30pm
Alec
T, R: 11:30am-1:30pm
MATH 155
Dr. Harbaugh-Schattenkirk
T: 9-11am
Dr. Boyle
M: 2-3pm
Dr. Wears
T, R: 12:30-1:30pm
Rebecca
W: 9:30-10:30am
R: 12:30-1:30pm
F: 10-11:30am
Ryan
M: 1-3:30pm
W: 1-2:30pm
MATH 164
Nick
M, W, F: 9-10:30am
Lucas
M: 12-1pm
T, R:11am-12:30pm
Aidan
M: 2-4pm
R: 11am-12pm
David
M, W: 2-3:30pm
F: 11am-12pm
Dr. Wears
T, R: 12:30-1:30pm
MATH 171
Luis
T: 1-2pm
R: 1-3pm
Ryan
M: 1-3:30pm
W: 1-2:30pm
Nina
T, R: 12:30-1:30pm
W: 11am-12pm
Rebecca
W: 9:30-10:30am
R: 12:30-1:30pm
F: 10-11:30am
Alec
T, R: 11:30am-1:30pm
Nick
M, W, F: 9-10:30am
David
M, W: 2-3:30pm
F: 11am-12pm
Shelby
T, R: 9:30am-12pm
Dr. Wears
T, R: 12:30-1:30pm
MATH 175
Aidan
M: 2-4pm
R: 11am-12pm
Alec
T, R: 11:30am-1:30pm
Ryan
M: 1-3:30pm
W: 1-2:30pm
David
M, W: 2-3:30pm
F: 11am-12pm
Dr. Wears
T, R: 12:30-1:30pm
MATH 261
Nick
M, W, F: 9-10:30am
Lucas
M: 12-1pm
T, R:11am-12:30pm
Alec
T, R: 11:30am-1:30pm
Ryan
M: 1-3:30pm
W: 1-2:30pm
David
M, W: 2-3:30pm
F: 11am-12pm
Dr. Wears
T, R: 12:30-1:30pm
MATH 262
Nick
M, W, F: 9-10:30am
Lucas
M: 12-1pm
T, R:11am-12:30pm
Alec
T, R: 11:30am-1:30pm
David
M, W: 2-3:30pm
F: 11am-12pm
Ryan
M: 1-3:30pm
W: 1-2:30pm
Dr. Wears
T, R: 12:30-1:30pm
MATH 280
Nick
M, W, F: 9-10:30am
Alec
T, R: 11:30am-1:30pm
David
M, W: 2-3:30pm
F: 11am-12pm
Dr. Wears
T, R: 12:30-1:30pm
MATH 301
Rebecca (Can help with JMP and R)
W: 9:30-10:30am
R: 12:30-1:30pm
F: 10-11:30am
Nick (Can help with R)
M, W, F: 9-10:30am
Luis (Can help with R)
T: 1-2pm
R: 1-3pm
Shelby (Can help with JMP)
T, R: 9:30am-12pm
Nina (Can help with R)
T, R: 12:30-1:30pm
W: 11am-12pm
Dr. Wears
T, R: 12:30-1:30pm
MATH 307
Luis
T: 1-2pm
R: 1-3pm
Lucas
M: 12-1pm
T, R:11am-12:30pm
Aidan
M: 2-4pm
R: 11am-12pm
Dr. Wears
T, R: 12:30-1:30pm
MATH 361
Alec
T, R: 11:30am-1:30pm
CMSC 121
Nick
M, W, F: 9-10:30am
CMSC 140
Nick
M, W, F: 9-10:30am
Rebecca
W: 9:30-10:30am
R: 12:30-1:30pm
F: 10-11:30am
David
M, W: 2-3:30pm
F: 11am-12pm
CMSC 160
Nick
M, W, F: 9-10:30am
Alec
T, R: 11:30am-1:30pm
David
M, W: 2-3:30pm
F: 11am-12pm
CMSC 162
Nick
M, W, F: 9-10:30am
Alec
T, R: 11:30am-1:30pm
David
M, W: 2-3:30pm
F: 11am-12pm