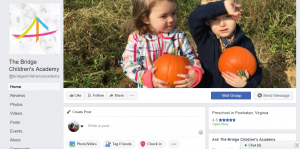 Image from facebook.com
I will continue analyzing the Bridge Children's Academy's Facebook page in this post. I will focus on the Risk Rhetoric demonstrated throughout their site. Their site can be found at this link: https://www.facebook.com/bridgechildrensacademy/
1) The four constrains associated with risk rhetoric are "diverse risk frames, the complexity of risk topics, the emotionally laden nature of risk topics, and the status difference between organizations and audiences" (Hoffman and Ford 171).  The most common constraint associated with daycares is emotionally laden nature of risk topics. Most parents are typically nervous to leave their children with strangers. They might be concerned that the children will not be fully taken care of, fed, cleaned, and loved as well as they might be capable of doing
2) The audiences include parents who know their children very well, so in this instance, they are experts about their children. However, many parents have not taken professional classes on the development of children, which also makes them nonexperts. Many parents appear to be very happy with seeing images of their children have a good time as preschool.
3) The organization is aware of the risk of emotionally laden nature of risk topics and tries to counteract it on their facebook page. They do so by posting images of happy and healthy children in fun and educational activities.
4)  The main appeal focused on the facebook page of The Bridge Children's Academy, is pathos. Because facebook does not offer large amounts of texts, the organization showcases images of the children. By showing smiling children, audiences are encouraged to feel that their children are happy and safe.
5) The organization portrays themselves as qualified to take care of the children because they acknowledge the great job their staff is doing, and they indicate that when making decisions about closings and delays, they turn to expert meteorologists and examine the radar.
6) The strategy that accomplishes audience invitation is Community Participation. The organization's site allows all audiences to participate in their posts. They can review the Academy and also comment/ask questions on each post.
7) The organization does not specify what might happen if a child is not taken care of. Instead, the organization prioritizes that their child will be taken care of.