Posts tagged
VSCA16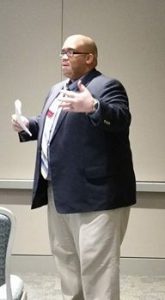 On October 12th I had the opportunity to present alongside Dana Kieran, Associate Director for Disability Resources and Dr. Lauren Wynn Assistant Professor for Counselor Education at the Virginia School Counselor's Conference. It was a great experience to present as it was a goal of mine prior to graduating from my program.
Our presentation focused on how school counselors and disability service providers can collaborate to assist students with their transition to the post secondary environment. For our presentation we started out with an activity that helped individuals think of barriers to the postsecondary environment that might exist for students with disabilities. We then began to talk about the challenges that students face in their new academic environment along with the changes to various relationships that they might have had previously.
The main portion of our presentation that really created conversation amongst the counseling professionals in the room was an explanation of the differences between the secondary and postsecondary environments when accommodating students with disabilities. And then we ended with a conversation about what it means for students to be college ready. This presentation proved to be a great learning experience for me and my colleagues. I believe that we began a very substantive conversation about how we can better prepare students for a postsecondary transition. Also professionally it was great to network with various folks in the field. I was able to receive a few invitations to do some follow-up presentations for various school systems and non-profit groups.
I'm grateful for the opportunity to use what I have been learning in the classroom and combine it with the work that I'm currently doing in my role with Disability Resources. Thanks Graduate Studies for the opportunity.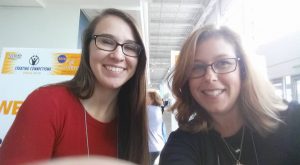 I had such a wonderful experience at the Virginia School Counseling Association (VSCA) Conference! The theme this year was "Creating Connections", and I definitely made some amazing connections thanks to my amazing professor, Dr. Wynne (pictured here taking a selfie with me!). She introduced me to everyone it seemed like! I was so grateful to have her there as a guide and resource. I began the conference with a pre-conference session on working with LGBTQ+ youth by Charles Dyson. It was extremely interesting, and I learned new information, such as the prevalence of an individual being born intersex is the same as those being born with red hair. I was able to meet several school counselors and administrators at the President's reception that night. The next day was full of many sessions ranging from classroom management to yoga guidance classroom lessons. The last day we had a lunch with keynote speaker Gayle Danley. She is a slam poet, and her poems left everyone speechless. She was so powerful with her words. This experience is one I will never forget. I am so thankful that I was able to attend, and hope to in the years to come.