Posts tagged
VCA2016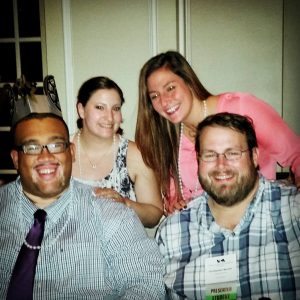 I had the pleasure of attending and presenting a poster at the 2016 Virginia Counselors Association (VCA) Conference in Williamsburg, Virginia. The conference was excellent overall, and particularly in the focus on LGBTQ related issues and in social justice issues faced in the counseling profession today. My presentation, about trauma assessment measures that are commonly used with children, was well received. It was particularly rewarding to have conversations about this with fellow professionals in the field who do similar work to my work in the school system. The ability to share ideas with these people was the most powerful thing that happened at the conference. The exchange of immediately useful ideas and information changed how I respond to a couple of common daily occurrences at my school.
Spending time with the professors, alumni, and current graduate students at the school was another positive. It was enlightening to have professional and personal conversations with people and to talk about where the Longwood program has been and where it is going.
On November 9-12, 2016 the Virginia Counselor's Association Convention took place in Williamsburg, VA. The event included two keynote speakers, Kevin Hines and Dr. Michael Gillette, and nine education sessions, each with multiple sessions attendees could choose from. Four Longwood students currently in the program-Chris Barnes, Jessica Hamlett, Brittany Bishop, and Cameron Patterson-joined many Longwood Alumni and Counselor Education faculty for the weekend. Chris Barnes and Cameron Patterson were both honored as VCA student fellows and Barnes presented a poster on assessing trauma in children. Dr. McCleskey, Dr. Wynne, and alum Amrita Sethi collaborated to present a session on counselors working as allies for LGBTQQI clients and students. Dr. Doyle presented updates from the Virginia Board of Counseling. The event was a great success for Longwood University in education and representation. The next convention will take place November 9-11, 2017 at the Omni Homestead Resort in Hot Springs, VA. All Counselor Education students, faculty, and alumni are encouraged to attend and represent Longwood!