Posts tagged
VCA Convention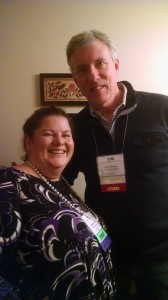 I attended the VCA Conference from Thursday through Saturday, November 20 – 22, 2014. I attended 9 fantastic sessions on a variety of topics: Narrative Therapy, Emotional Literacy, Restorative Justice, Substance Abuse, Counseling Multiracial Students, Grief and Loss, Trauma in Schools, Counseling ADHD Students, and Preventing Truancy. I found the sessions overall to be extremely interesting and informative. I have a huge binder full of all of the notes that I took over those three days!
I also enjoyed spending time with other graduate students in the counseling program, as well as with some of my professors. The picture is of Dr. Doyle and I at one of the many Thursday-night receptions.
I thought that the Williamsburg Lodge was a great location for the conference, and I look forward with great anticipation to next year's conference, which will be held at The Homestead!