Posts tagged
Valerie Stolicker
Going to the Virginia counseling associations annual convention at the Homestead resort was educational and quite a treat. I was able to attend a session on Friday, November 10 entitled "please don't forget the T (in LGBTQ, that is!) : Understanding and collaboratively advocating for trans individuals."   The session on Friday evening was presented by Longwood's own Kathleen McCluskey and Valerie Stolicker entitled "Empowering clients in the face of an uncertain political climate".  I was particularly interested in the discussion surrounding the town in which I call home,  Charlottesville, Virginia, and the various perspectives represented.  On Saturday morning I went to a session "Trans-affirmative counselor self-efficacy".  The presenter, Cory Gerwe, was extremely knowledgeable about the topic.
I really appreciated the audience participation in each of the sessions and building  greater knowledge and understanding of important aspects of the career.  I look forward to future conventions, with the chance that one day I may present a topic myself.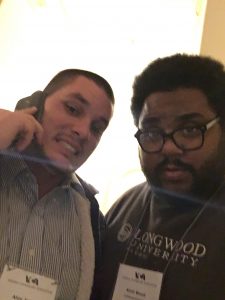 I attended the Virginia Counselors Association conference in Hot Springs, VA at the Homestead. The conference had many exciting sessions and some so close together that it was difficult to choose which to attend. I attempted to attend in my classmate's presentations as well as presentations I believed would help me professionally. One of the most interesting presentations that I attended was focused on the riot in Charlottesville, VA. The presentation was given masterfully by Longwood's own Dr. Kat McCleskey and Valerie Stolicker the audience was so engaged that the presenters went over their time. Another presentation that I believe will help me professionally was a seminar on dialectical behavior therapy, which is primarily used to treat personality disorders as well as mood disorders. Though the technology failed during the presentation, there were a few experts in the audience that gave valuable information to counselors new to the therapy. Over the course of the conference, I learned so many new things about counseling and the clients that receive therapy. The networking opportunities were amazing, and I met counselors and counselor educators from all over Virginia. The conference was also fun; I got to enjoy the conference with classmates and other counselors that I met along the way.