Posts tagged
VAASL2015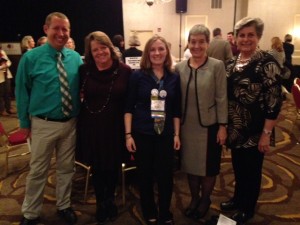 Allow me to clarify: I paid to go to the VAASL Fall Conference, but it felt like sneaking in because I'm not actually a school librarian yet-still taking my graduate classes to get me there. But it was certainly beneficial being able to attend this conference as it gave me more of an idea as to what my future Falls will look like as I'm sure I'll be attending this conference annually. Getting the chance to start the networking within the librarian community is also a wonderful benefit from attending as I'll have people I can turn to from day one when I become a librarian myself.
And while I'm not a librarian yet, I can obviously see how I can use much of the information I learned while at the conference once I am. Now I will admit that there were so many sessions and new ideas/info that it was a bit overwhelming at times, but reflecting back a week later, there were some things that stuck pretty well. I really liked the session on genrefying the fiction section as this is a topic I've been curious about the relevance of doing this in a library; but based off the statistics and advice I heard in this session, I think it is certainly worth a try. Learning how significant primary sources can be when beginning the research process from a former Library of Congress librarian imprinted the notion that it is so important to ensure our students care about the work we ask them to do so it can be their work, not ours. Another session also uses the same LOC photos idea, but these two fun, creative librarians shared a lot of wonderful ideas for integrating more hands-on, critical-thinking activities like learning stations and research products using green screen technology. Lastly, there was the idea of taking students on virtual field trips via websites with video tours of locations (like the Sistine Chapel or the human body); a great idea for those days when there's school-wide testing or the last days of schools.
Again, I'm not a librarian-yet, but attending this VAASL Conference has really inspired me to look forward to the day when I can implement the various things I've learned this past week. If the future conferences are anything like this one, I look forward to my future as a librarian and as an attendant.
A big thank you to Longwood University Graduate Studies for providing a travel grant so I could learn more about the career I can't wait to start thanks to opportunities like this and of course my absolutely wonderful professors in the School Librarianship Program (as pictured).