Posts tagged
librarians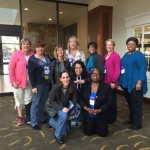 The VAASL conference was a combination of instruction, enthusiasm, encouragement, cooperation, and collaboration. All necessary components if we as school librarians are going to navigate "The Edge" successfully both individually and collectively. There was certainly no shortage of relevant and current topics, tools and research listed in the session schedule. The difficult part was trying to fit every session I wanted to attend into the three days. The new online SCHED tool made planning a workable schedule as easy as the touch on a screen and a check in a box.
With graduation approaching, I chose to attend sessions that were a blend of topics studied in classes, a plethora of technology tools mixed together with the experience of librarians. I have had the opportunity to take part in multiple cohorts over the last two years: each one at a different place in the Longwood program. Many of the students I have attended class with have finished the program and launched into the world of school librarianship. This conference was a wonderful opportunity to hear first hand their different experiences as first year librarians. This proved to be a great resource as they shared a wealth of practical tips and suggestions during conversations that occurred throughout the three days. Thank you for encouraging and supporting Longwood Librarian students to attend this conference. I look forward to putting into practice the principles learned from the sessions. For me, the VAASL conference was an opportunity to think, create, share and grow.
I had a terrific time at my first VAASL conference!  We did not get to stay at the Hotel Roanoke, which was too bad since the hotel itself was absolutely beautiful.  However, the hotel that I was at was a 2 minute drive to the conference.  The three big highlights of my trip were:
Listening to Neil Shusterman talk and read from his books, including a selection from his soon to be published book.  He was witty and personable and seemed like he truly enjoyed speaking to us.
The talk given my Sharon McQueen, from Old Dominion University was amazing!  She spoke about picture books for older readers and introduced so many different titles to me.  Her passion for the subject was evident in her excitement as she presented.  Her talk was tailored down from 90 minutes to 45 minutes, but I was lucky enough to have been able to stay for a bit to chat with her about the rest of her presentation. I was very glad to have gotten a list of titles that were introduced.
Getting to see Roanoke.  I've never been there before and I had a blast exploring the city center with my cohort friends and my family.
I'm so glad that I had the opportunity to see different presentations.  I only wish that I was able to go to more sessions.  Maybe next year!