VAASL Conference 2017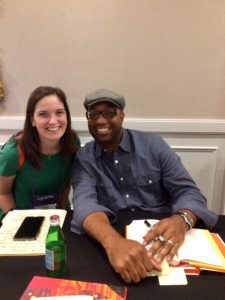 This was my first conference for school librarians.  I attended two days worth of sessions and gained lots of great new ideas to use in the library.  One session I attended was about different topics and trends for 2017 in the library.  Some great ideas I am excited to learn more about are breakout boxes, teaching students about fake news, global goals, libraries as learning spaces, and using social media as an advocacy tool.  Audrey Church was the session leader and she provided great example materials for us to get started.  I was also able to attend two author sessions.  The first was with Kwame Alexander (pictured with me).  He talked about his love for poetry and how hard he worked to become a published author.  His talk about visiting different schools and letting students see what poetry really is was very moving.  The next author I was able to listen to was Ruta Sepetys.  Her session was about why she writes historical fiction and why she focuses on specific topics.  Her session was extremely powerful.  Another great session I attended was on makerspaces for the elementary library.  The speaker told us how he was able to create his space and what are good things to add to a makerspace.  He also brought some of his breakout boxes for us to try to open.  I definitely came home with some amazing ideas on how to make the library new and exciting for students.  The sessions also gave me helpful ideas on new lessons.  I cannot wait to attend next year!
Comments are closed.