VAASL Conference 2017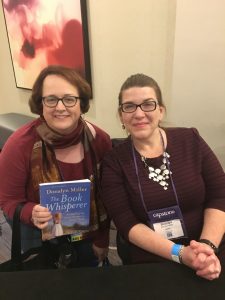 My name is Rebecca Kronthal and I am currently a graduate student in Longwood's 3rd Prince William Cohort for School Librarianship.  I was thrilled to be able to attend the 2017 conference for the Virginia Association of School Librarians from Thursday, Nov. 2nd until Saturday, Nov. 4th in Chantilly, Virginia.  I attended sessions on many topics and trends in the field of School Librarianship.  I enjoyed sessions reviewing "What's New" in Children's literature for 2017 as well as many "How to's" on topics such as Makerspaces, book clubs, selecting authentic diverse books, author visits, lego stations, fostering a love of reading in a school culture, and judging "Fake News."  The highlights of the conference were the fantastic author visits and keynote speakers.  I was very excited to hear Newberry winner Kwame Alexander speak about his journey to become an award winning author.  I also got to meet and talk with Donalyn Miller, author of the Book Whisperer.  She inspires me to want to create a school full of life-long readers!  (See photo.)   I enjoyed hearing Marc Nobleman speak about how his investigative research into the origins of Superman and Batman have changed history forever.  They were all very uplifting and inspiring stories.  Finally, I also got to network and meet many librarians from all over the state of Virginia and talk with them about their school libraries.  This is the valuable advice that can't be learned from a textbook.  Hearing from librarians who are doing the job every day really gave me a lot to think about!  I also caught up with my fellow Longwood graduate students as well at a Longwood School Librarianship event on Thursday night at the conference.  We played Longwood trivia games and learned a lot about our academic department and Longwood, while playing Kahoot!  I am excited to try out a lot of the things that I have learned when I get back to my school, such as planning a lego station in my literacy centers and following Donalyn Miller's advice to allow my students more choice when it comes to the books they read.  I hope to do even more when I become a school librarian.  Thank you for the opportunity to attend this great conference!  I am looking forward to the 2018 conference in Williamsburg!
Comments are closed.