SHAV Convention 2015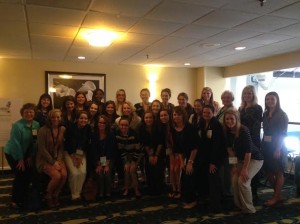 I had the privilege of attending the Speech-Language-Hearing Association of Virginia's annual conference held in Richmond, Virginia. I attended the day-long conference on Thursday, March 26th and Friday, March 27th. This was my second year attending the conference and I hope to continue this new tradition in the years ahead. I had the opportunity to attend sessions held by a variety of experienced and educated professionals including speech-language pathologists, health care administrators, and otolaryngologists. Each session was engaging and highly educational. The sessions in which I attended were on the topics of swallowing, voice, intervention in ICU, providing services for individuals with severe disabilities, service delivery, auditory processing disorders, and autism spectrum disorder (ASD). The information that I learned from attending these sessions directly relates to the information I have learned from the graduate program at Longwood University. I will use the knowledge I learned at the SHAV 2015 Convention in my current internship and throughout my future career as a speech-language pathologist. I am thankful to have had this great opportunity.
Comments are closed.