SHAV 2015 Conference Review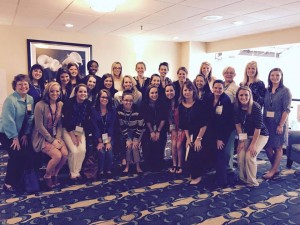 This past weekend I attended my first SHAV conference in Richmond, VA. As a first year attendee I didn't know what to expect, and I was overwhelmed by the number of seminars available. One seminar that caught my attention was titled Using Structured 'TEACCHing' to Build Communication in Students with ASD. This two-hour session highlighted how the use of visual supports, such as visual schedules, can be used to increase independence and decrease behavioral issues in students diagnosed with Autism Spectrum Disorder. At the end of the session we examined several of the visual supports that presenter Diane Talarico-Cavanaugh, M.ED. has created and modified. We were then encouraged to take away a few of the printed supports to use in therapy sessions. In addition to attending the seminars, I spent time walking around the exhibit hall. I explored vendor resources that can be implemented into therapy such as articulation cards, and sampled Simplythick Instant Food Thickener for the first time. Overall, this experience was educational and fun! I enjoyed expanding my education outside of the classroom and clinic, and especially enjoyed sharing the experience with Longwood peers and faculty!
Catherine Stergar
Comments are closed.