Virginia Counselors Association Convention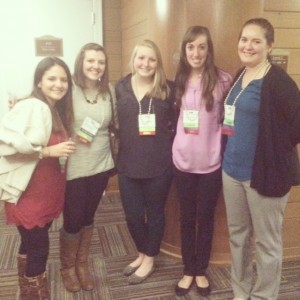 This November, I had the opportunity to attend my first Virginia Counselors Association Annual Convention, which was held in Williamsburg, VA.  Throughout the convention, I attended several sessions on topics that will help me to become a successful school counselor, such as bucket filling, creatively expressing emotions, positive behavior interventions, social media, and even how to use dance and yoga in the classroom or during counseling sessions.  The motivational speaker, James Lloyd, was incredibly entertaining and motivated me to not only be a better counselor, but to be a better person as well.  His words on genuinely making others feel important and taking care of yourself will stick with me for many years to come.  In addition to learning a variety of new counseling strategies and resources, I really enjoyed networking and getting to spend time with other grad students, friends, and professors outside of the classroom.
The conference was a very inspiring and refreshing experience that has left me with new tools, greater friendships, and even more excitement as I move closer to starting my career as a counselor.  I am already looking forward to attending next year's convention!
Comments are closed.