VAHPERD Annual State Convention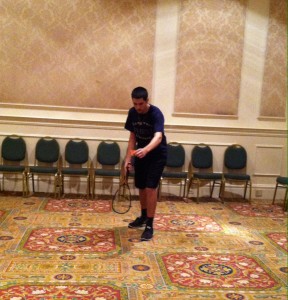 During the VAHPERD Convention I was exposed to so many new possibilities to incorporate in my future classroom. I learned new and exciting games called speedminton, tchoukball, and spikeball. These games allow all students to participate at once in a classroom with few equipment pieces. I know if i thoroughly enjoyed these three activities my students will too. In addition to learning new and exciting activities, I also was able to attend two sessions with the sports physiologist from Duke University who gave me great insight on how to coach. I plan to coach baseball on the high school level along with teaching health and physical education and from this session I learned the importance of how to become an efficient. effective, and respected coach. Lastly, during my weekend at the VAHPERD Convention, I attend a few adaptive physical education sessions that really gave me a hands on perspective of how students perform task in a classroom with certain disabilities. I highly respect all adaptive physical education teachers for what they do and really believe those two sessions will allow me to reach the needs of all students in my classroom by incorporating inclusion into my future classroom.
Joshua Barmoy
Comments are closed.