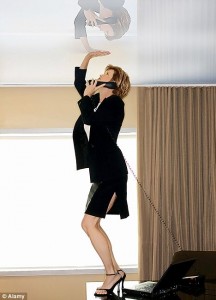 From NPR:  Among the candidates President Obama may nominate for the next defense secretary is Michele Flournoy, formerly the highest-ranking woman in the Pentagon.
Flournoy is a mother of three, and in February, she stunned her colleagues when she stepped down from her job as undersecretary of defense for policy to spend more time with her children.
It wasn't an easy decision, but it's a dilemma that many working mothers face. While some call for changes in workplace policy to make caring for families and working easier, others argue women ultimately have to make a choice.
When Flournoy was working at the Pentagon, she says her hours were long and intense. She would work starting at 7 a.m. for about 12 hours, "pretty much non-stop." Then she would have maybe two hours with her family at home before being available to work again around 9 p.m.
She did that for three years. During that time, both she and her husband were in senior government positions (her husband, W. Scott Gould, is deputy secretary of Veterans Affairs).
"There was a point in time, when my older kids were reaching the teenage years, that they really needed more of a parent," she tells Guy Raz, host of weekends on All Things Considered.
So after a number of long discussions with her husband, Flournoy says, they decided it was time for one of them to step out.
It was an agonizing decision for Flournoy, in part because she didn't want to let down the younger women who looked to her to open doors for them. The reaction she actually received surprised her.  Continue here.