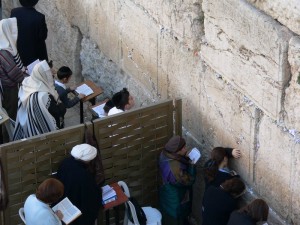 From the NYT:  Amid outrage across the Jewish diaspora over a flurry of recent arrests of women seeking to pray at the Western Wall with ritual garments in defiance of Israeli law, Prime Minister Benjamin Netanyahu has asked Natan Sharansky, the chairman of the Jewish Agency, to study the issue and suggest ways to make the site more accommodating to all Jews.
The move comes after more than two decades of civil disobedience by a group called Women of the Wall against regulations, legislation and a 2003 Israeli Supreme Court ruling that allow for gender division at the wall, one of Judaism's holiest sites, and prohibit women from carrying a Torah or wearing prayer shawls there.
Although the movement has struggled to gain traction in Israel, where the ultra-Orthodox retain great sway over public life, the issue has deepened a divide between the Jewish state and Jews around the world at a time when Israel is battling international isolation over its settlement policy. Critics, particularly leaders of the Reform and Conservative movements in the United States, complain that the government's recent aggressive enforcement of restrictions at the wall has turned a national monument into an ultra-Orthodox synagogue.