The 2019 Spring Presentation of Undergraduate Research (SPUR) is a digital initiative that collects and archives exemplary course-based student research with a grade of B+ or above in Digital Commons, Longwood University's digital archive. Students who submit their work will receive swag from the Office of Student Research. SPUR provides open access to global users and awards to students for most views and downloads. It also creates permanent links that students can use in applications for employment, internships and graduate school.  In spring 2019, all student work will be featured in an online exhibition.  Students who have the highest number of views and downloads will receive awards at a special dinner. Students can submit multiple research-based assignments to increase their chances for awards.
Deadline: January 31, 2019
How to Submit
Is it Research?
In order to submit your coursework to SPUR, you must determine if it is research-based.
Does your paper or project have a research question, hypothesis, thesis or theme (for creative disciplines)?
Did you look up sources and incorporate them into your work or consider what others have said about your topic?
Did you do an analysis or interpretation or produce a creative piece?
If you answered Yes to ALL of these questions, you have research-based coursework suitable for submission to SPUR.
Needed Files
In order to submit you will need a file containing your work and a screenshot of your grade from Canvas or a scan of the grade you earned.
1. File containing your work: Digital Commons converts files into a PDF. If you have other files in other formats, you can add them as Additional Files in the submission process.
2. Screenshot of grade: If your grade is in Canvas, you will need a screenshot from the Submission Detail page. (If your grade is on a hardcopy, just scan the first page that shows the grade you earned).
a. In Canvas, click on the Course that contains the assignment and grade.
b. Click on Grades on the left.
c. Click on the Assignment
d. Make sure you are on the Submission Details page and take a screenshot (see below). You can take a screenshot with your phone and email it to yourself or take a screenshot using a PC or a Mac.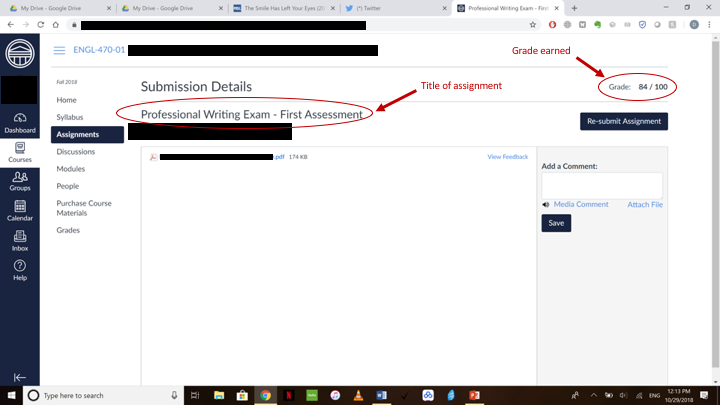 Submission Process
Submit your work and screenshot (or scan) using the online SPUR Submission Form.