Hi everyone! My name is Bailey Nixon. I am a spirited and driven girl from Richmond, Virginia. I am blessed with parents, a brother, and many pets at home. I loved growing up in my Richmond suburb town, but coming to Farmville to pursue an education at Longwood University has been one of the most rewarding experiences.
From a young age, I have been very passionate about learning. Beginning in third grade, I started taking gifted courses. After excelling in these, I decided to attend an International Baccalaureate (IB) middle school. Following my time here, I applied and was accepted into a high school with an academic center focusing on Education and Human Development. My involvement in the center pushed my passions for teaching and gave me the courage to apply to Longwood in order to study education.
Since coming to Longwood, I have fallen in love with the community that it provides. As soon as I began my first year, I felt welcomed and confident that I could succeed in my classes. My peers and professors were amazing and helped me every step of the way. Throughout my years here, I have joined several organizations that play a major role in my involvement on campus. I first joined Alpha Delta Pi in the Spring of 2019 and soon after joined the Longwood Ambassadors in the Spring of 2019. Both organizations have helped me in many ways to expand my personal growth as well as meeting a variety of people on campus. In the fall of 2019, I became a math tutor in the QR Tutoring Center here at Longwood and have enjoyed every moment of working with my peers. In the Spring of 2020, I joined Order of Omega, and am very excited to see myself develop in this organization. My first two years have been nothing short of amazing, and I cannot wait to see what my future holds as a Lancer!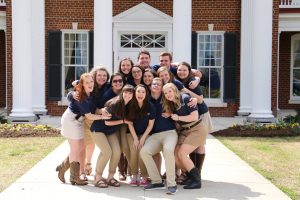 (Pictured is me with my Ambassadors "newbie" class in Spring 2019)