Busch Gardens and Water Country USA Park Operations Business Internship
About the Parks
Busch Gardens and Water Country USA are theme parks owned by Seaworld Parks and Entertainment in Williamsburg, Virginia.  Busch Gardens is a European themed park and is the highest earning Seaworld park.  Busch Gardens has also been ranked the #1 most beautiful theme park in the world for 30+ years,  Water Country USA is a 50's American beach themed water park.  Water Country USA is the most visited seasonal water park in the United States and frequently ranks in the top 5 USA today best theme parks.  Water Country USA is also one of the top earning Seaworld parks.
About the Internship 
The Park Operations Business Internship puts interns in leadership positions in either Busch Gardens or Water Country USA.  The position varies based off where the intern has applied.  Most interns are Assistant Business Unit Supervisor (ABUS).  The responsibilities of the ABUS depends on where the intern is placed.  In addition to working in the park, the intern attends a weekly seminar about the business operations of the company.  In the beginning of the internship, interns are split into groups to create a business proposal.  This project is developed over the course of the summer.
My Experience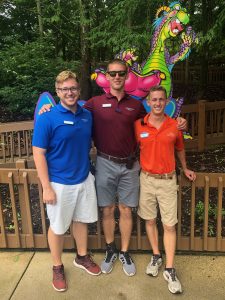 For my internship, I was an Assistant Business Unit Supervisor in Zone 4 at Water Country USA.  I was 1 of 3 ABUS's in the zone along with 1 Business Unit Supervisor (my direct supervisor).  Zone 4 has some of the most popular attractions in the park; including family rides, a thrill ride, and a kid zone.  I was able to supervise about 30 lifeguards everyday.  During my time in park, I managed the rides, assured cleanliness and safety, and most importantly… guaranteed positive guest experiences.  There were many times when guests may not have been too favorable of some rules in the park.  These guests often feel very strongly and wish to verbally explain their frustrations.  I learned to handle guest complaints professionally while still upholding park regulations.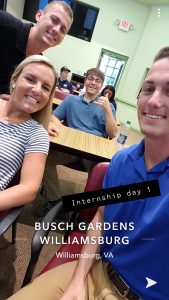 Going to seminar each week was always educational.  There was always guest speakers from within the parks.  We listened to people from a broad range of jobs.  We listened to speakers from landscaping, marketing, culinary, zoology, the administrative office, and many more departments.  The speakers gave us insight into how to move upwards in companies and  how to be exemplary employees.  Along with speakers, we also did many fun things!  We went to Kings Dominion and compared our parks.  We made notes on things they do better and we were able to see what we did better.  This helped us come up with our project proposal idea.
We were tasked with coming up with a business idea to propose at the end of the internship.  This idea could be anything to improve guest experiences, increase profit, or both.  I was in a group of 5, all ABUS's at Water Country USA.  We came up with the idea to create a rewards program in both parks.  This proposal is targeting guests that are frequent visitors/seasonal pass holders.  The problem we were trying to fix is that guests do not spend a lot of money in the park.  They typically do not buy food or merchandise in the park.  We proposed an incentive program that would award guests with reward points and they could cash in points for prizes such as meal vouchers, cabanas, and Quick Que passes!  We created a slide show for our seminar class, park administration, and the Vice President of Water Country USA!  The presentation can be found here.  Overall, we were told that we had a good presentation and the idea was well received.  Now, we are hoping that our proposal is accepted for the park to implement.
Longwood Classes that Helped
There were many classes that prepared me for my internship.  In particular, Persuasion Theory.  In this class, I learned different theories that relate to persuading others.  I used this class when trying to propose the rewards program.  We used tactics from the class in our presentation, which ended well.  In the business department, Organizational Management helped me.  I learned how organizations work, appropriate workplace behavior, and how to communicate professionally.
Overall Thoughts of the Internship
Often, I was tasked with running the zone on busy days alone.  This meant dealing with guest complaints, lost children, cleaning, and much more.  I had to learn quickly how to prioritize tasks and multitask.  Although there were difficulties, I was inspired by my internship in many ways.  I hope to continue in the company and move up.  I loved many aspects of the company, especially the zoological part.  Working with animals in the future would be the dream, but I would enjoy working anywhere for the company.  I gained some skills I was not quite expecting to learn.  I learned how to create a professional business proposal, how to communicate between different levels of the company, and how to handle guest complaints calmly and professionally.  Handling guests complaints was one of the goals I had set for myself in the beginning and I learned a lot fro watching my co-workers.  My co-workers were very helpful throughout the whole internship.  My Business Unit Supervisor was my mentor throughout the process of becoming an ABUS.  He did a great job at mentoring me and showing me what to do and what not to do.  Overall, I would definitely recommend this internship to future students.  I would say that Busch Gardens and Water Country USA are fun places to work while in school and this is a great company overall.