Building Supervisor
Assist in office administration tasks, which includes answering phones and working with students and faculty.
Collaborate with set-up crew to ensure proper layouts of meeting spaces.
Implement rules and regulations while being point of contact of the building.
Lifeguard and Swim Instructor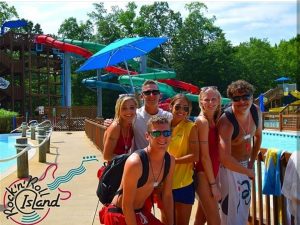 Taught youth of all ages swim lessons.
Gained customer service skills by interacting with guests professionally in intense situations.
Learned to work with a team to complete complex tasks.
Resident Assistant
Helped maintain a positive living environment for 35-40 residents.
Facilitated and organized programs for 35-400 people.
Communicated professionally between superiors and residents.
Longwood Ambassador

Helped to facilitate campus tours to prospective students and their families, as well as prospective faculty
Conducted integrated activities with students to increase group cohesion.
Learned to answer difficult questions professionally and truthfully.
Volunteer

Served as a Youth Leader on this team but became an adult leader in 2017.  On the Appalachian Service Project (ASP), I have volunteered countless hours to work on multiple homes in Kentucky, Virginia, and West Virginia at various times of the year.  I have assisted other adult leaders in performing various home-improvement projects for homeowners in my hometown area who are either unable to do the work or afford the improvements themselves.  Some of these projects have included building ramps, repairing sheds and porches, and painting.