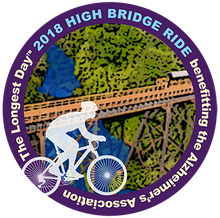 As part of the Cormier Honor College and the longwood community in general, another big aspect of our collegiate life is being willing and ready to serve the community and consequently, cultivate the values of altruism and philanthropy. During my first year at Longwood, I engaged myself in service-driven actions in order to be useful to the community (as little the help may be). Among other things, I volunteered with the soccer club at FACES to help with the packaging  of groceries. I also participated in the High Bridge Ride for Alzheimer awareness. In any case, I hope my schedule for upcoming years will allow me to continue  dedicating my time to the service of the community.
If interested in the Alzheimer awareness program, please visit https://www.alz.org/ for more information about the disease.
or visit http://act.alz.org/site/TR?fr_id=10935&pg=entry to participate in the Longest Day event on June 21st of every year.
In concordance to my desire to continue serving my community, I was fortunate enough to participate in several community based activities as being part of the Honor retreat during my sophomore year. In this respect, we volunteered to clean up public gutters and recycle rubbish for Clean Virginia Waterways. In this same experience, we collected and reported data on the amount and kinds of trash that was collected in the given area. We also participated in cleaning up and clearing the path along the High Bridge Trail.