Persuasion in Music Festivals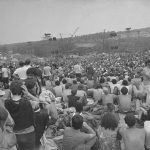 Music. One of the few things that binds various cultures together. Music represents the passion and emotion people have, but do not know how to express. It is an outlet for anger, for sadness, for loneliness. From the very formations of civilizations, music has been an integral part of the culture. It is what has brought people together during hard times and given them hope during their darkest hour. In today's society, one of the biggest ways music has brought people together is through concerts and music festivals. Music festivals allow for public opinions to be voiced.
Public opinion can be formed by expose to various sides of debate. Free speech allows for a place where public opinion can be expressed. Free Speech is basically being able to express one's opinions without retaliation. Woodstock is one of the most known music festivals where free speech expressed the public's opinion through the use of lyrics.
Woodstock, 1969, one of the biggest and most known music festivals, with "close to half a million people" in attendance, was created in order to promote peace in the country. It is guarded as one of the most impressive music festivals. It brought so many different people together with little to no violence. Woodstock was a place for people to peacefully protest the Vietnam War. Since the first Woodstock in 1969, music festivals have been popping up across the country. All these various festivals focus on so many different genres, such as blue, rock, EDM, country, and more. Some of the biggest music festivals today are Electric Forest, Electric Zoo, Electric Daisy Carnival, Bonnaroo, Lollapalooza, and Coachella.