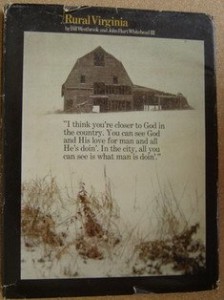 Rural Virginia
In Virginiana Collection
Link to catalog: http://readpac.longwood.edu//record=b1060272
Student assistant Chandler Pascale chose to highlight Rural Virginia. He writes:
Compiled by Bill Westbrook and John Hurt Whitehead III, Rural Virginia was published in 1974, and is a collection of photographs of rural life across Virginia.

I found the book fascinating because it also contains the words of rural Virginians, such as one man who said "I can't read or write much, but I learned more here at the mill than I ever learned at school. I learned how to count a dollar and keep it." This book would certainly appeal to the environmentally conscious, as it offers a look at the former composition of Virginia's countryside. Indeed, while flipping through Rural Virginia, I found myself wondering how much of the landscape shown has remained untouched or unaltered.
Special Collections Spotlight will periodically feature material that can be found the Longwood University Special Collections and Archives. If you have questions or would like to request an item to be featured, please contact Amanda Hartman at hartmanar@longwood.edu