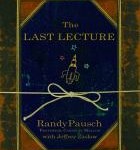 The Last Lecture
In Virginia Authors Collection
Link to catalog: http://readpac.longwood.edu//record=b1369020
Student assistant Chandler Pascale chose to highlightThe Last Lecture. He writes:
The Last Lecture is an autobiography of Randy Pausch, a professor at Carnegie-Mellon University in Pittsburgh who was diagnosed with pancreatic cancer in 2006. The book is part of the Virginia Authors Collection because its author, Randy Pausch, lived in Virginia for the last year of his life. After his diagnosis, Pausch realized that he could have either a negative or optimistic outlook in relation to his life. He decided to savor life's pleasant moments, cherishing the time spent with his wife Jai and their three young children.

Although Pausch died in July 2008, most readers will find his story as inspiring as I did. Many college students (myself included) can begin to feel overburdened by academic or social stresses. Pauch's advice to live each day and cherish each experience to the fullest can renew students' lowered motivation and imbue them with excitement for the future.
Special Collections Spotlight will periodically feature material that can be found the Longwood University Special Collections and Archives. If you have questions or would like to request an item to be featured, please contact Amanda Hartman at hartmanar@longwood.edu