Completing this internship at 106.5 The Beat has been an amazing experience that I will hold near and dear to my heart. The staff there have been amazing to work with and have provided an abundance of insight that will be extremely helpful if I decided to continue a career path within the radio industry. It was interesting to see into the radio side of mass communications since our course programs are focused more around journalism. I also realized how much the two aspects of communications intertwine with each other since I had to base some of my work from articles that were reported by journalists.
Throughout my time at the internship, I've experienced a few challenges as you would when beginning a new area of work. Most of these challenges came when I was learning new programs or tools that are necessary within the radio industry. I learned how to use tools like the switcher and how each button controls what we hear. I was also taught how to use the program used to queue up the show, and how to swiftly transition music and commercials. Because both were new concepts to me, it was difficult when I first began, but after having practice, I was able to overcome both challenges and thrive within the internship.
When I first began at this internship, I was interested in working within the radio industry, but it was that big of an interest, just more of a backup. After getting the chance to learn the basics of what is needed to work within this industry, I realized how much my passion for music could be translated to a career in radio. Whether I work on air or behind the scenes, I've gotten a chance to grow my appreciation for the industry and now it's higher on my potential career paths list.
The skills that I hoped to gain described in my first journal were my public speaking skills on air and my multitasking abilities. After the last few months participating in this internship, I can confidently say that I believe I have improved both skills. Being able to talk on air more than once has given me the opportunity to learn how to shape my voice so that I sound more professional. It has also allowed me to get over the fear I had of speaking on air because the other personalities believed in my abilities even when I was nervous about them. Working with the switcher allowed me to improve my multitasking abilities because it literally controls everything in the studio. When segueing the show, chopping commercials, or conducting phone giveaways, we consistently use the switcher.
The goals I set within my performance evaluation were that I would become more confident when completing hands-on operations and not being afraid to ask questions, learn the promotional side of the business as well as I did the on-air side, and to gain as much insight about the industry by asking valuable questions. I feel that I achieved the first and last goals I set for myself because I learned to believe that none of my questions were "dumb" and that all information was valuable. The second goal I didn't achieve because by the time I was able to get down to the promotions office, the internship was essentially completed, however, I'm glad that I was able to see how the on-air side worked in depth.
I feel that I was mentored throughout this internship mostly by the two radio personalities I sat in with as well as by my supervisor. They were all able to answer any questions I had with ease and they taught me the basics quickly and efficiently. Because my supervisor also has a show, I was able to sit in with him while he works on his show as well as the radio personalities so when I had questions, I would ask all three to get the most efficient answers. I felt that getting all the different opinions would help me more than just getting one.
I would recommend this radio station to students looking for internships. You can tell that all the employees have a passion for their craft and they are excited to be able to pass on their knowledge. It's also a great internship because there are different radio stations in the building so sometimes other radio personalities will stop by and you'll be able to have conversations with them as well. Whether students are looking for a career in radio or even marketing, there is some way they can find a great mentor at this company. 106.5 specifically are currently actively looking for a new intern since I am leaving, so it would be a great time to get in contact with them if any students are interested!
---
Work Samples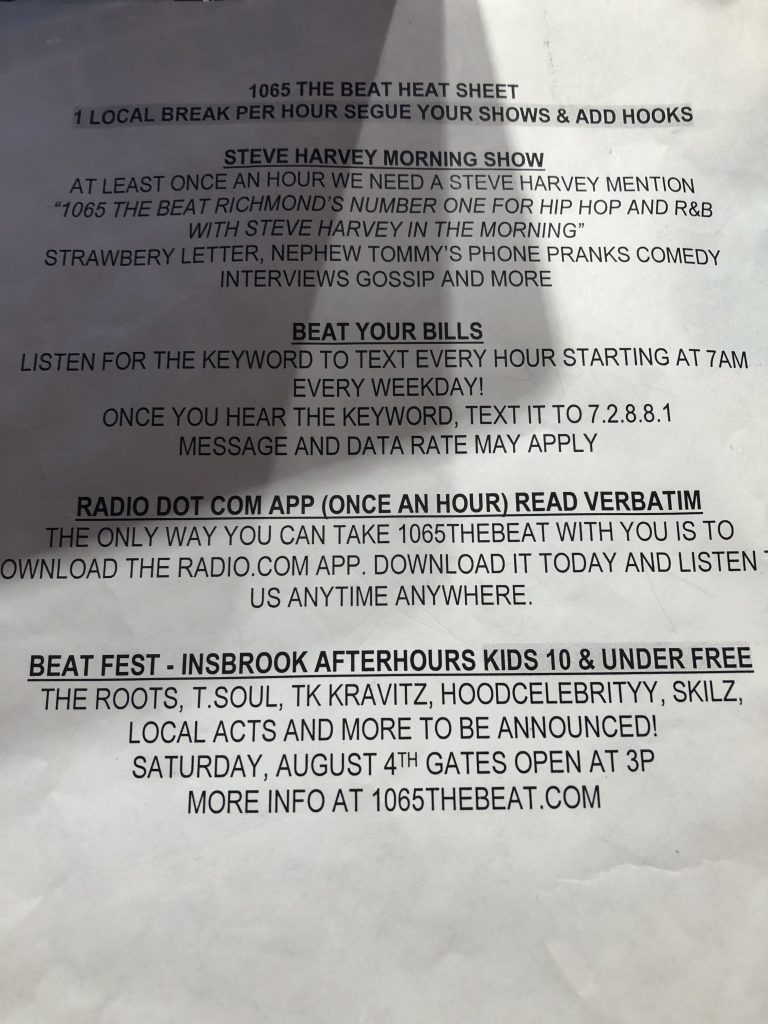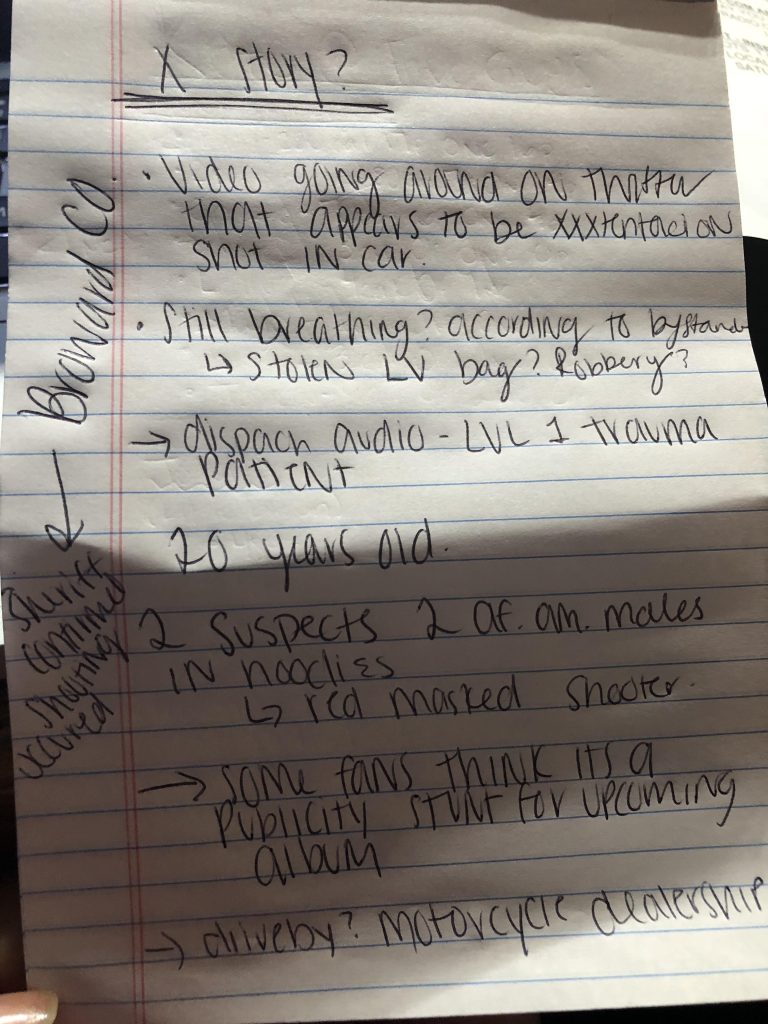 This third piece is an audio of a commercial I shot for the segment "beat your bills". This was the first complete audio piece I created which included reading it off the script since this specific commercial has to be read word for word, recording it and adding the music track in the background.
This fourth piece is a video of the 5th take of the second reader I did right before recording the "beat your bills" segment. I also had to read this piece word for word. This was a little after I did a few readers so I wasn't as shy as I was in the beginning.
The 5th piece I don't have a sample for, but it's the script I use for when we complete contests on air. We have to ask them their name ahead of time for when we cut together the commercial instead of having them introduce themselves. We then introduce the caller and announce to them that they are the xth caller (which ever number we asked for). After doing this, the audio is cut within VoxPro, a program that works with the phone lines. After the commercial is fully created and the music track is placed behind the audio, the information is collected from the caller and I type all that information into the contest winner form so the caller can pick up their tickets to whichever show we were conducting the contest for.
(Hover over slideshow for picture captions)