Krista Coalson
This user hasn't shared any profile information
Posts by Krista Coalson
I was so excited to attend my second VAASL conference.  My first session was with the author April Henry.  Her presentation was excellent, and I was able to take away the information about her writing and resources she would use with students.  I am going to have my student enter into the contest for mystery writing on her website.  At the end of the session, I was able to meet April Henry.  Her quote, "You can edit bad stuff, but you can't edit nothing" resonated with me because I currently teach a writing class.
My next session was Keva Planks.  I love Keva Planks.  The presenter was awesome and shared that on the Keva Planks website there are ideas for using the planks in any classroom.  The activity I liked the most was creating an "image" that represents a book and explaining how it does.
I also attended the sessions on collaborating with secondary math teachers and graphic novels in the classroom and library.  Overall, these two sessions also provided me with resources to use in my future library.
In the future, I plan on attending all the days of the conference.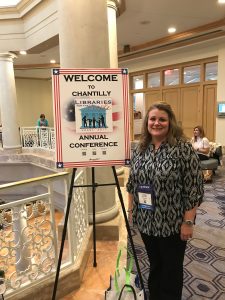 The 2017 Annual VAASL conference was an amazing experience on every level.  The Marriott Hotel in Chantilly, VA, was beautiful, and the staff of friendly and helpful.  On Saturday I attended the Author Panel Breakfast and two sessions.  At the breakfast, the authors spoke about how their books encompass the idea of multiculturalism.  Meg Medina was the moderator for the event.  The authors, Lamar Giles, Wendy Wan-Long Shang, Madelyn Rosenberg, and Ruta Sepetys, talked about their ideas and views on multiculturalism, their books, and their writing styles.
The first session I attended was "Reading Love, A Year of Collaboration".  The session was phenomenal.  The presenters Tonya Dagstani and Nathalia Hardy presented information about the collaboration between the librarian and English teacher.  They used the book by Penny Kittle, Book Love, to develop their collaboration.  In their collaboration lesson, they used different sections of the book like reading ladders, speed dating, conferencing, thematic composition books, and many others to show the ways the library and the classroom can work together.
The second session "Keeping Up With Technology" was innovative and informative.  I value myself as technology savvy and this session brought new ideas how to use technology in the classroom and library.  I thought Rebekah Hall did a wonderful job showing the different ideas and providing how they could be used in different classes, not just English, but science, world language, etc.  I provided the link to presentation since so many great ideas were given:  https://www.emaze.com/@AORLOCRZQ/keeping-up-w-technology.
Throughout the day, I felt as if I were in my element.  Surrounded by librarians, future librarians, teachers, and authors, I was able to learn so much about being a librarian.
Krista Coalson's RSS Feed