VAASL Conference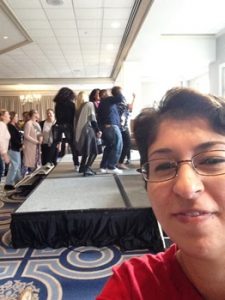 I attended the Virginia Association of School Librarians (VAASL) conference on Saturday November 4th.  I attended the author breakfast as the first session within this day.  The authors in attendance on this day included Meg Madina, Ruta Sepetys, Madelyn Rosenberg, Wendy Shang, and Lamar Giles.  I was lucky enough to be seated next to Madelyn Rosenberg so we had a chance to talk about her book "This Is Just A Test".  The author book talk on Saturday morning was especially interesting to me since it covered the topic of diversity and diverse characters from different walks of life, parts of the world, and ethnic backgrounds in books.
In addition to the author book talk, I also had a chance to converse with different librarians from around Virginia and learn about how they conducted different mini lessons within their libraries.  This was a great opportunity to not only meet and connect with other librarians but to hear about their different experiences in order to help me to shape my first year as a school librarian.
Additionally, I had a chance to attend a few workshops.  One of the workshops was in regards to new technologies which included things from presentations tools, tools to use to create stations (such as QR codes), and technologies that help students to take ideas from a lesson and to place them in chronological order.  I had such a great time; what an awesome conference!!!
Comments are closed.