SHAV Annual Conference 2015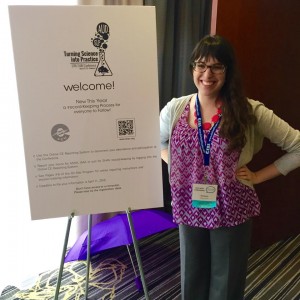 While I have been to other SLP Conferences, this was my first time at the Speech-Language & Hearing Association of Virginia's Conference. It is always great to attend these conferences and learn the most up to date information for our field. As a graduate student, meeting professionals who are working in this field is a great reminder of what we are putting in all of our hard work for. We received a wealth of information on new products in the field from vendors and were given samples (and hula hoops). The most beneficial information however came from the courses that were offered. I had the privilege of sitting in on multiple courses on swallowing, language, and social communication. The information I learned from these courses corresponded to information that we have been taught or are learning at Longwood. It was great to know that our professors are some of the leaders in this field and to hear stories from others about how all of our information will be useful once we hit "real life." A part of the conference that was surprisingly informational was a student luncheon that many of us attended on the second day. In this luncheon we were given a wealth of information on the steps to take immediately after graduating from our masters program. This part of the day was catered specifically to graduate students and many members of the SHAV board of directors attended and were answering any and every question we may have. I am so glad that I was given the opportunity to attend this conference.
Comments are closed.