Exercise Interventions in Special Populations (Spring 2022)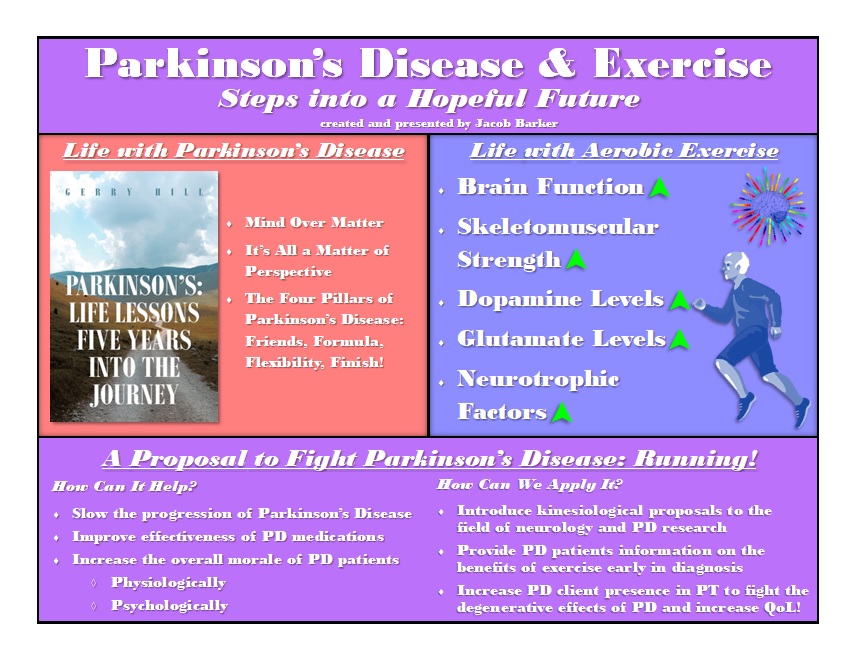 The artifact I chose from this course is the poster I created to represent my research at the 2022 Spring Student Showcase. For this project, I decided to perform research on Parkinson's Disease and how exercise could benefit patients who endure it. As the grandchild of someone who passed due to complications from PD and an aspiring physical therapist, I felt passionate about researching this subject and wanted to go above and beyond by presenting my findings and a proposal at the 2022 Spring Student Showcase. As the first showcase I participated in, I had an immense amount of fun and anticipate participating again in Fall 2022 and Spring 2023!
Additionally, for this enhancement, I gave a 15-minute presentation to my KINS 488 class about Parkinson's Disease and what we, as kinesiologists, can do to help those who suffer from the condition. This presentation was given in the form of a PowerPoint consisting of eight questions that students could interact with and complete through Inknoe ClassPoint, along with three slides following talking about what three common career paths in kinesiology (research, personal training, physical therapy) have to offer for those with Parkinson's Disease. I had a great time presenting both at the 2022 Spring Student Showcase and to my class!
To reflect on KINS 488, I had an immense amount of fun learning about how exercise can benefit individuals of many special populations with Dr. Tena Ewing. With so many conditions covered and eligible exercises introduced to us, I felt this course was a perfect choice as my first Cormier Honors College for Citizen Scholars Enhancement at Longwood University. From the standard course, I learned an immense amount about how we, as kinesiologists, can help those beyond the standard demographic through exercise testing and prescription. Through my individual research in form of the enhancement, I learned even more, gaining a perspective from a PD patient, Gerry Hill, along with the physiological benefits of exercise for treating PD. Going forward, I will use the knowledge obtained from this course along with my enhancement of it to be a more analytical, sympathetic individual when entering the field of physical therapy. I believe by doing this, I will help myself become a better individual and help others recover more effectively and elatedly.