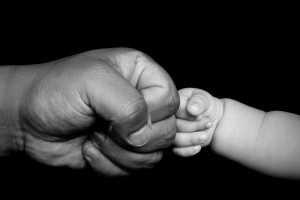 From the NYT comes this very moving father/son tale: 
WHEN my son Jeff was little, he was a pain in the neck about eating. On one drive to Huntsville, Ala., he sobbed for 70 minutes (I know because I timed it) about how we were starving him to death. 
We stopped at a diner and ordered him a meal, and he proceeded to eat about four bites before claiming he was full.
You might think I would lose my temper, but this had happened before, so I was prepared with a well-planned response. I reached over and started eating his food. Bite by bite, I finished everything on his plate, figuring that would teach him to mind his dinner.
Unfortunately, the plan had a different effect. Everywhere we went after that, Jeff expected me to finish his meals. It got so I would only order him meals I liked, knowing how it would go.
And at home, forget about it. I was a workaholic back then, two jobs, out of the house at dawn and not back until 8 or 9. A lot of those nights, Jeff wouldn't eat his dinner. His mother would get so angry, but what could she do? How do you force someone to eat? The best she could do was the tried-and-true route, telling him that if he didn't eat dinner, he wouldn't get dessert.
I would walk into his room when I got home, and he would be lying there, wishing he had eaten dinner so he could have a snack before bed.
"You hungry?" I would whisper, and he would nod, big eyes gleaming in the light from the hall. I would sneak him something, our little secret. Sometimes we would eat it together.  Continue here.